Kangaroo Valley weekend away
The long weekend created by Labour Day often falls near my birthday.
Saturday 4th October, 2008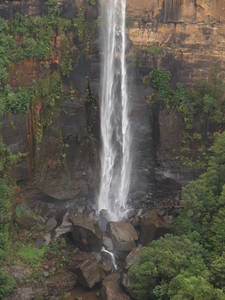 We didn't get away till 11, and it was raining. We bought mangoes from a rest stop seller by the freeway, then stopped in Bowral for lunch. The Elephant Boy Cafe was full, so we went to a fine food place on the other side of the road.
At Fitzroy Falls we did a short walk in the mist, with dripping trees and intermittent views. Afterwards, at a roadside shop just before descending the pass, C bought plants and honey.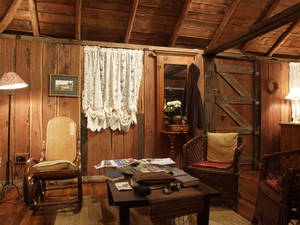 Loughmore Cottage, which we'd booked for the weekend, is a huge wooden hut relocated from Crookwell, near Goulburn. (The
Loughmore Cottages
web site has details.) We found the key where we'd been told to look at the back door, and quickly settled in.
The nice thing about Loughmore Cottage is that it is right in the middle of "town" (but far enough off the road that traffic noise wasn't a concern). So we popped out and walked around looking at the Kangaroo Valley art galleries.
We then drove down to Bendeela camp ground, where there were lots of wombats wandering around in the dusk. (This is a mammoth camp ground, which must be packed in summer.) There was a wedding on in the Thai restaurant, so we returned to the cottage and then went across the road to the Friendly Inn for dinner.
Sunday 5th October
I went out to a nearby bakery (taking advantage of being right in the middle of the village) and we had breakfast and then looked around the shops. C was taken by some lead lights, but ended up buying an antique paint scraper from a hardware store.
The Kangaroo Valley Pioneer Museum Park is probably the major attraction in the Valley. It has entire relocated houses, with furnishings, from the 19th century, including a school, a dairy and a forge. We looked around these and did a short loop walk. Afterwards we wandered across Hampden bridge (the curator had complained about heavy trucks damaging it) and looked at some kayakers below.
There were lots of "for sale" signs, lots of birds, and it was very pleasant, overcast and cool with a slight breeze. We went to the Blind Toucan cafe for lunch.
In the afternoon we did a "Three Views" walk (it's "Four" in the booklet, but one track appears to have been closed off) out to lookouts above Tallowa Dam. I found a path which I thought had to go down to Apple Tree Flat, the bottom of which we'd seen on a 2004 bushwalk downstream from Tallowa Dam. This goes across lovely heath, with flowers of all kinds, isopogon, scribbly gum, beronia, hakeas, and yellow-tailed black cockatoos, rufous warblers, and other birds.
It was back to Bella Cafe for smoked duck pasta and mushroom risotto. We watched Secretary on television and a scary documentary about Patrick Henry College.
Monday 6th October
We had croissants and cake and coffee for breakfast, then packed up leisurely and got going around 11ish. We drove up the Upper Kangaroo River to "Flatrock". We'd planned to do the Minnie Ha Ha Falls walk, but a woman we met mentioned leeches, which put C off. Instead we crossed the river and walked upstream a bit and then came back, which was not very exciting.