Barrington Tops loop walk
February 2004
Danny Yee, Camilla Ip
(thumbnails link to larger images)
Wednesday
Heading north from Sydney, we took the slower back road through Kulnura. We had a minor drama when my glass frames broke while I was driving, but I managed to stop without hitting anything. We passed by the Bulgoa mine and stopped in Singleton, where an optometrist put a new arm on my glasses for $20 and we had lunch. A reject shop provided chocolate peanuts, a spoon for Camilla, and the notebook I wrote this journal in.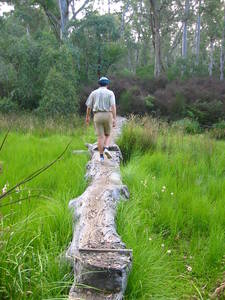 In Muswellbrook we stopped for petrol and a visit to the information centre. On the way into Barrington Tops we saw straw-necked ibis, brown falcon, and wedge-tailed eagles. The drive up onto the plateau was complicated by some eight or so "driver under instruction" army trucks going the other way.
The Pol Blue campsite could fit several hundred people, but our only company was one couple in a campervan and it was very peaceful. A group of grey kangaroos bounded by soon after we arrived and we saw some swamp wallabies when we did the short loop walk around the Pol Blue swamp.
A brief night wander didn't reveal anything too exciting: a fox, magpies, crows.
Thursday
There were wallabies wandering around a few metres from our tent when we got up. We ate bacon and muesli, packed, then headed off to the Barrington Tops trail.