Beijing Hotel Shatan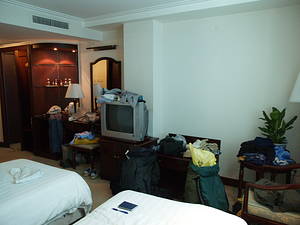 The Beijing Hotel Shatan is in a
hutong
backstreet area just northeast of the Forbidden City. It's a great location, with lively street stalls outside, a supermarket a hundred metres to the east and Jingshan park a similar distance to the west.
We booked online and paid 1352 yuan for four nights — about US$40/night. The economy room we had was nice, except that it had no external window, just a fake window with glowing blue tropical island (complete with palms and seagulls) lit by fluorescent lights... I'd stay there again, but I'd pay the extra 40 yuan/night for a "standard" room with a real window.
You can
book the Beijing Hotel Shatan
through
Sinohotel
.
She wasn't always around, but one of the staff had excellent English.
We paid to have a load of laundry done but forgot to ask how much it was and it ended up being exorbitant — it would almost have been cheaper to have bought new clothes! The little laundry shop next door to the hotel is definitely a better choice. On the other hand, Internet access in the hotel's "business centre" was very reasonably priced.