Subukia estate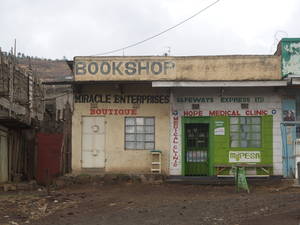 Kassim (a Luo-speaker) was learning some Kikuyu from Duncan and Demetrios, so I gave him the
"Some Basic Facts about the Kikuyu Language"
(PDF) printout I'd brought with me.
We drove north to Subukia estate, which is pretty much right on the equator. Here we were visting what is now a cooperative-owned coffee and tea plantation.
Subukia Estate is a 2000 acre property (40% coffee, 35% tea, 5% conservation reserve), employing 600 staff, which a white settler sold back in 1993. Some 1500 Kenyans set up a cooperative and with a government loan (at 70% LVR) bought out the estate. Five of the members work as directors; the rest are all over Kenya and even the world. (The cooperative pays dividends already, but when the loan is paid off in two years the members will be "very rich men".)
We started at
"Mugunda House"
, the old colonial farmhouse which is now a homestay. After looking at the birds around the house and having tea, James, one of the directors, took us on a short bird-watching walk around the property, down to a creek and back.
Birdwatchers, mostly from the UK, come and stay in Mugunda House for several days, since 270+ species have been seen on the property and a hundred can be seen in a day. We didn't manage anything like that, but with James, Kassim and Duncan pointing birds out we saw what seemed like a vast array, including both large striking birds and a range of beautiful little sunbirds.
It was gloomy and drizzled a bit, so I don't have a lot of photographs. The birds we saw included: yellow-whiskered greenbul, auger buzzard, bearded woodpecker, Eurasian beeeater, common bulbul, variable sunbird, red-eyed dove, white-eyed sooty flycatcher, speckled pigeon, Hartlaub's turaco, speckled mousebird, silvery-cheeked hornbill, bronze sunbird, tropical boubou, cinammon-breasted beeeater, Ruppell's robin chat, northern double-collared sunbird, masked weaver, brown-crowned tchagra, common fiscal, greycapped warbler, scarlet-chested sunbird, African dusky fly-catcher, hadada ibis, paradise fly-catcher (brown and white morphs), pied crow, rufous sparrow, golden-winged sunbird, white-bellied tit, bronze mannikin, pin-tail wader, northern brubru, Baglafecht weaver, olive thrush, red-billed fire-finch, red-cheeked cordon-bleu, African citril, and yellow-breasted apalis.