Saint Malo, Mont Saint Michel, Bayeux travelogue
a week in Brittany and Normandy in September 2017
Amost six years exactly after Camilla and I spent a weekend visiting Caen, Bayeux and Cherbourg, we returned, this time with Helen, to visit Saint Malo, Mont Saint Michel, Bayeux, Beuvron-en-Auges, Honfleur and Caen.
The overnight ferry was a great success. We left Oxford at 5pm and had an easy drive to Portsmouth, pouring rain and a false exit from the M275 notwithstanding. The ferry terminal is much quieter than a big train station, let alone an airport, and similarly less stressful. We had a quick dinner in the Costa, discovered they had eduroam wireless, and picked up a little colouring booklet from an ORCA charity display. On board we realised we should have waited for dinner: the food on Brittany Ferries is clearly French, decent quality and not expensive (unless you eat in the very fancy restaurant, when it becomes expensive and probably rather good). But we indulged ourselves with cakes for dessert.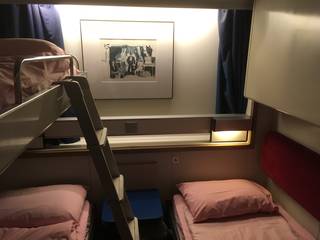 Our cabin was cramped but cosy, and we all went to sleep relatively quickly (though it was still 10pm or so). I had memories of half-waking every time a particularly big wave lurched the ship, but no one had problems with sea sickness, perhaps because we'd all taken hyoscine hydrobromide just before the ship left. We woke up to alarms at 7 (6 UK time) and had breakfast on board but we could have slept in a bit longer: though the ship got in around 8.15 it took a while before we could disembark.
And there we were, before 9am, with an easy kilometre or so to walk from the ferry terminal to our hotel in Saint Malo's old city! We had effectively avoided losing a day to travelling.
As we approached, there were nice views in the morning light of the ramparts and the mass of the houses. There's was no check-in at 9am, of course, but we left our bags in our hotel (the Ibis Styles) and just wandered around. (There are no major attractions in Saint Malo old city per se, with the major attraction the city itself.) We walked a portion of the ramparts, wandered the largely pedestrianised streets, did a bit of shopping, ate crepes and cakes, and generally just rambled.
We fitted in an afternoon nap after we got into our hotel room, which was large and airy and had a nice street view (though it was on the first floor and so didn't have a view over the ramparts). And for dinner our attempt to find something that wasn't crepes took us to a proper restaurant with really good food. (Everything felt moderately expensive given the €1.10 exchange rate; last time we had been in France the pound had been more like €1.40.)