Kyoto
April 2015
Summary
We had a great time in Kyoto and would happily visit again. It's quite a big city, with nearly 1.5 million people, but has good transport and feels a comprehendable size. And it has an amazing range of temples, shrines, parks, and so forth, of which we saw only a handful.
Kyoto is a great destination for toddlers and probably older children, because the major attractions are outdoors or at least partly so, leaving plenty of opportunity for running around. (Much of this travelogue is concerned with managing a two and a bit year old and may not be of general interest.)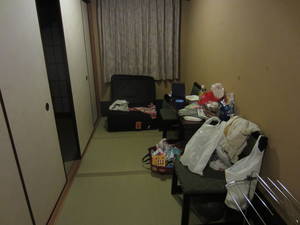 Arrival and Logistics
We stayed in a ryokan (Japanese hotel) right next to Kyoto Station, just across from the bus terminal, largely because we were arriving very late at night. It was simple but clean and comfortable. Only the tatami matting and the floor mattress were really different from a Western hotel and if we went again we'd try to find somewhere more atmospheric.
Our flight arrived at Osaka Kansai at 8.55pm, but the airport was efficient and we got through immigration, picked up our train tickets from the JR West shop (where there was a fifteeen minute queue), and made the last 10.15pm express train to Kyoto with time to spare. That got us to Kyoto at 11.30pm and after a quick visit to a little supermarket we got to our ryokan just before midnight.
Day One (Sunday)
We had a good first day in Kyoto. The girls slept in, so I went for a wander by myself: I found the temple just to the north, but didn't go in, and explored the food court under the bus station, eventually finding coffee in a Starbucks. (Not much was open, and that turned out not to be a Sunday thing, with surprisingly few shops open before 10 even on weekdays.)
Once we got away we worked out how the bus ticketing worked, then took a bus out to southern Higayashima, where we ate an early lunch before visiting the Kiyomizu-dera temple.
We had a stroller with us, but used it only for the trips to and from the airport. This meant that Helen either moved under her own steam or was carried (mostly by me). Naps were managed by heading into the nearest eatery, where she could lie down on a bench with her head on my lap.
We kept walking and had dinner in the Gion district.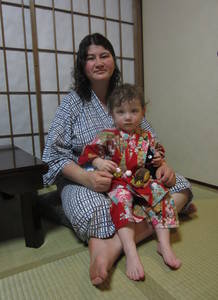 Day Two (Monday)
Our second day in Kyoto didn't start so well. It was raining, and we almost went to Osaka to visit the aquarium, but we didn't get away till 10 so we visited the Nishiki Market in central Kyoto instead. This proved a bit stressful, as Helen was cranky and tired (she had, as on most nights in Kyoto, gone to sleep after me, but woken up only just after me) and a badly timed nap resulted in us having to carry her for a long stretch.
Neither the markets nor the streets in downtown Kyoto are places one can let a toddler run around freely, which contributed to the stress. This was in contrast to the previous day, where minding Helen while Camilla shopped had been easy in the pedestrianised streets around Ninnen-zaka.
We escaped the city centre by getting a taxi to the Nanzen-ji temple. This was really atmospheric in the light rain, with a lovely location, great moss and trees and mountains, and some lovely buildings and Zen gardens. And it was not at all crowded, and Helen ran around happily till she started to wane, when we walked to the metro.
Helen fell asleep on the subway and slept through an early dinner in the food court right near our hotel. Of course then she was hungry, so we had to go out for a second dinner later...
We didn't eat anywhere fancy — we never tried
kaiseki
— but the almost random places we ate in (food courts, little eateries, chains, and so forth) were all pretty good: clean and comfortable, with good service and tasty food. Eating in Kyoto also seemed cheap, at least by UK or Australian standards: most of our meals were around ¥1,000.
One nice thing was that in most eating places Helen's presence immediately elicited the arrival of a child-sized plastic bowel (typically with Mickey Mouse or suchlike on it) and matching cutlery. On the downsize, none of the places we ate in had baby change facilities. (Only the department stores and train stations seemed to.)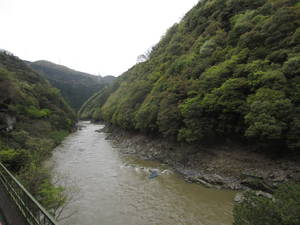 Day Three (Tuesday)
Our last day in Kyoto was the best. We had a quick breakfast in a coffee/sandwich shop in the food court, then took the train to Saga Arashiyama, which got in just in time for a trip on the Sagano Scenic Railway. This is about 45 minutes return, and goes up a dramatic gorge, following and crossing the river.
Helen had a brief nap, then we visited the Okochi-Sanso villa, the bamboo grove, and the Tenryu-ji Temple.