I finally got around to taking Helen to the Story Museum. This is all about stories and learning from them, and runs regularly changing exhibitions. Last summer Helen seemed too young at one and a half to appreciate their 26 Characters exhibition (though it ran until February and if I'd thought about it again I'd probably have taken her then). The downside is the price: it's £7.50 for an adult and £5 for a child, so that was £12.50 for me and Helen. But there's a lot of fun stuff and we ended up staying there from 1pm to 5pm when they shut (including maybe an hour for afternoon tea in their cafe), so I'd have to say it's worth that. (The season ticket, £30 for the two of us, might have been tempting, but this exhibition only runs for another four weeks. There's also a £20 family of four ticket.)
The current (running till 6 September 6 2015) offering is basically a set of reading and play spaces, built around books but with a lot of props: interesting nooks and crannies, dressing up, toys, and so forth. Few of the children I saw were actually reading or being read to — and we never finished the one book I started with Helen — mostly they were playing or drawing or dressing up.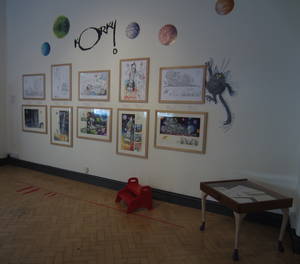 Draw Me a Story is a more traditional kind of exhibition. Of the six illustrators featured here we knew Korky Paul (Winnie the Witch) and Quentin Blake. As well as some original artwork, there are some short videos of them explaining how they work (unfortunately cutting out after a few minutes due to the use of some software not being fully licensed). And there's a nicely set up drawing room.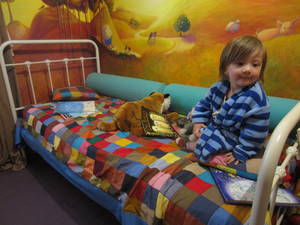 Time For Bed has a little room with scores of small cupboards, each with a book cover on the front and the book and toys to accompany it inside: so Owl Babies has three little owl toys, The Gruffalo's Child has a GC toy, and so forth. Then there's a huge room with an enormous bed and side rooms with little beds, all set up for sitting and reading on. This was Helen's favourite part of the museum (the previous night she'd put herself to sleep in her own bed for the first time ever, so maybe it was topical).
Extreme Reading has various boats, a rabbit cage, a small hut and so forth, all with small collections of books in them. The books here seemed more for older children, or even adults. And The Changing Room has a pile of clothes for dressing up, and some kind of talking throne (we didn't spend much time in here so we didn't see it all).
Everything seemed really clean and items were tidied away somehow, even though I never saw staff doing that. I guess that's one side effect of the entry price, there just weren't that many people in there, maybe half a dozen children in a room at any one time, at most.
It's a shame this isn't continuing over the winter, when it would be a fantastic way to spend a cold wet day. But with any luck the Story Museum will have something else on by then.
0 Comments »
No comments yet.
Leave a comment