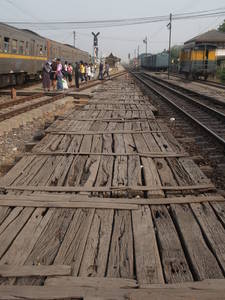 Bangkok again
The next morning we took a tuk-tuk to Ayutthaya station, which seemed a bit run-down. The third class train to Bangkok was only 15 baht - about 50c - and while hardly luxurious was perfectly fine for a couple of hours.
We had coffee and lunch at the main train station, then it was back to the Grand Hitech Tower by MRT and canal boat. Going out again, we visited the City Pillar Shrine, then went back to the river and, since the private tours were expensive, just took a ferry down the river again.
Back at Thong Lo I had the same meal I'd had on my first night in Thailand: roast duck with egg noodle and wonton in soup. And I got another massage, trying the traditional Thai instead of the Cambodian-style foot massage.