Bangkok
I was visiting a friend, Richard, who was effectively living in Bangkok and knew some Thai. So it was really easy for me: I didn't have to plan anything, fumble around with pidgin English, learn how the transport system worked from scratch, or anything like that.
Richard met me at the airport and whisked me into town on the shiny new Airport Skytrain, Bangkok's newest piece of transport infrastructure. We then took a canal boat to where he's living, in the Grand Hitech Tower in Ekamai.
The
Grand Hitech tower
is no longer that shiny and has quite basic rooms, but it also has a really nice pool on the roof and is fairly central. There were some quite flash cars outside, but Richard reckoned it was mostly rented by middle class Thais — the rent would be a bit under half a school-teacher's salary.
After I'd showered and unpacked a bit, we got a local bus up to Thong Lo, where we had an excellent dinner: I had roast duck with wonton soup and egg noodles (50 baht) followed by sticky rice and mango (60 baht) for dessert.
Then we went on a mad trip around central Bangkok, which involved the BTS and the MRT to get to some rooftop bar which we decided not to go into when we actually found it. Getting back involved a ride in a taxi, which got into such bad traffic that we got out in the middle of a major road and walked through the stationary cars to the BTS station.
In central Bangkok advertising, "MB" is not a mega-byte but a mega-baht, which works out at about $30,000 or £20,000. So far I've only seen this used in real estate advertising — condos "from 1.7 MB" or "from 3.3 MB" — and on a ticker showing the stock market transaction volume. And of course English is only really used for "international" and prestige goods, and seems largely limited to Bangkok: in the smaller towns I was to find that only major streets have names in Roman script, which can make working out where one is difficult.
The next day we did some more traditional sight-seeing, though we didn't try to see too much as it was just too hot to rush around. (I don't think it dropped below 30 Celsius while I was in Bangkok, not during the day, anyway. This is definitely the biggest downside to the city.)
We started with the Erawan Shrine, a little Hindu shrine on a busy road intersection right outside a major hotel.
The Jim Thompson House is the house and furnishings of an expatriate American who in the 1950s and 1960s helped to raise the profile of traditional Thai textiles and architecture. It's now a kind of oasis, preserving something of a feel for relaxation despite the buildings all around it.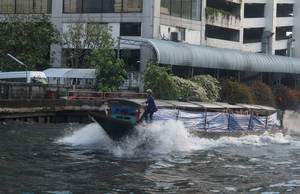 I got to try out most of Bangkok's travel options: the Airport Skytrain, the BTS raised metro system, the MRT subway, the canal boats, a cross-river shuttle ferry, the Chao Phraya express ferry, a three-wheeled taxi, a normal taxi, little local buses, and a longer-distance bus with air-conditioning. And of course we did some walking around.
Later on in the trip I got to try a motorcycle taxi (basically just sitting behind the driver) and the normal railway, and I even used a pushbike for half a day!
From there we got a canal boat to the Golden Mount temple.
The National Museum has some nice items, but is a rather old-fashioned museum where there are mostly just disconnected items with simple captions (many in English as well as Thai) and no attempt to tell a larger story or convey a broader picture. The exception is the Thai history tour, which presents a mytho-poetic nationalist/royalist narrative. (This rejects the idea that the Thai peoples might have migrated into their current location from elsewhere, downplays if not ignores completely Khmer cultural influences, explains some steps in the royal succession as "X died and Y succeeded to the throne" when the reality is "Y executed X and seized the throne", and — on a bit of paper pasted over the original number — gives the land area of Thailand as 513,115.029 square kilometres.)
We took a river ferry, as much for the experience as to go anywhere.
Wat Pho is a huge temple compound where almost everything is shiny and glittery, whether it's the giant reclining Buddha, stupas, roofs with finials, or smaller decorative features.