Ankara
Monday 31st May
I was woken by the whoosh of hot air balloon burners.
After four nights in Goreme we resumed travelling. A 10am bus was supposed to take five hours to get to Ankara, but first it took us to Nevsehir and we didn't leave there till 11am, so that worked out as more like six hours. In Ankara we took a taxi from the bus terminal (otogar) to our hotel.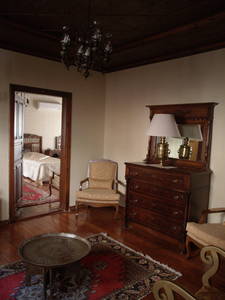 We stayed in the
Angora House
, a renovated Ottoman-style house, which feels like a little palace with just six rooms for guests.
The Angora House is well-located for the most popular attractions. It is off a narrow street just below the citadel, surrounded by crumbling houses, local shops, and souvenir sellers. Just a few minutes down the hill is a small spice/nut/dried fruit market and a huge number of antique shops, as well as the Museum of Anatolian Civilizations and the Rahmi M. Koc technology museum.
The manager was really friendly and helpful, but a bit run off his feet as he was providing security, preparing breakfasts, and helping guests as well as doing all the bookings and administration, with just a cleaner for support.
The guidebook had cheaper prices in euros, but the newer prices are in US dollars and a twin/double room was now $90. (This was the only place we saw that used dollars instead of lira or euro, perhaps to take advantage of exchange rate movements or perhaps because Ankara attracts more non-Europeans.)
Tuesday 1st June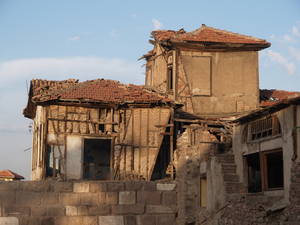 I woke up very early — I woke up the manager trying to escape from the house — and had a look around the lower parts of the citadel, though the top areas were not yet unlocked.
Otherwise we started with a visit to the Museum of Anatolian Civilizations, as it was just down the road — given the steepness of the hill, quite some way down, even though it was very close. This has excellent material and good interpretive explanations, with the displays organised chronologically, running from the Palaeolithic through to the Lydians (with a few later bits and pieces). The building itself is also notable, being an attractive renovated han or caravanserai.