Vinh Long
Richard had booked us onto a day tour of the Mekong Delta — we would go with the tour to Vinh Long but not return with them — which left from conveniently near the hotel. Our guide was Son, who had studied in the US in 1972 (and seemed to have had some problems before liberalisation in 1986).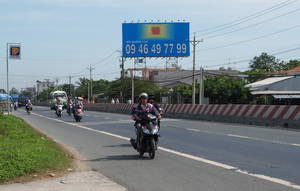 The bus followed National Highway 1 to Cai Be. Notable sights: fishponds in the median strip; a mix of old and new buildings, including some very narrow buildings by themselves in the fields, like isolated terraces; advertising everywhere, some of it quite "modern".
At Cai Be we transferred onto a boat. First stop was the floating market, which was not terribly exciting as the action happens in the morning. But this was our first look at the Mekong, and the ordinary life along the river was fascinating enough. Next we visited a sweet factory, where they processed coconuts, rice, etc. to make lollies — and were well set up to sell souvenirs to tourists.