The Killing Fields + Tuol Sleng prison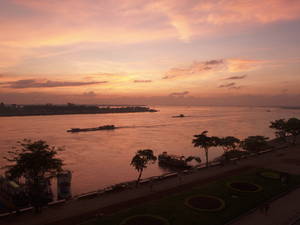 Friday 13th November
I was up at 5.30am for dawn views over the river. Most of the eating places along the river were shut, but we had breakfast in the Kiwi Bakery.
I booked a four hour Killing Fields + Tuol Sleng tour (Richard had been on one before). This didn't leave for some time so we walked around the central market, which had the usual range of textiles, clothing, electronics, and fresh food.
There were five of us on the tour, in a little air-conditioned minibus. First stop was Choeung Ek, a village 15km to the south of Phnom Penh where some 20,000 people were killed by the Khmer Rouge and buried in shallow pits. There is a pagoda honouring the dead and housing the bones of those who have been disinterred, a small museum, and fields where you can walk around the shallow depressions that mark where the pits are — only some have been excavated.