Phnom Penh - bookshops + a river cruise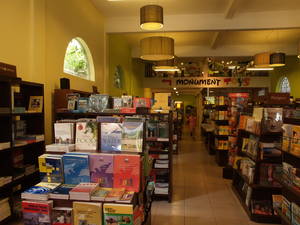 There's a cluster of bookshops with books in English a block or so north of the Independence Monument (which is not in itself terribly exciting). Monument Books is both extensive and expensive, and sports a cafe and a toyshop. (It also has shops at Siem Reap airport, in Luang Prabang, and now in Myanmar.) I bought a copy of Jon Swain's River of Time here — at $17, not so cheap! — and had a tea in the teashop.
The other patrons included a number of European women with children in tow and, with the toys and the large range of books on development topics, Monument Books clearly caters to the
Cambodian expatriate community
. With Phnom Penh's concentration of foreign NGOs, businesses, and government employees, that's quite large.
Not far from Monument Books is a cluster of secondhand bookshops, in one of which I bought a light novel to see me through the rest of the trip.
I walked back to the hotel via Wat Ounalom, which is the headquarters of Buddhism in Cambodia. It was very hot, so we didn't do much in the middle of the day — showered, read, had lunch, drank milkshakes, and booked the boat to Siem Reap the following day.
At 3pm we set off on a river cruise. This involved a slow trip up the Mekong, with views of the eastern shore. There were only two stops, the first at a wat and the second at a silk-weaving village.