Canon Powershot S330/S410/S500
a hiking camera?
Recommendation:
if I were buying a digital camera for hiking and travel today, I'd look at a
Powershot SD550
(sold as an
Ixus 750
in the UK and Australia). This packs everything the S330 has, along with a 7 megapixel sensor, into a smaller and lighter body.
Another camera that looks really interesting is Olympus' just announced Stylus 770 SW (UK Mju 770 SW, which isn't so good optically but is waterproof to 10m and shock-resistant to 1.5m. This would be excellent for snorkelling and canyoning.
The Canon two megapixel Powershot S330 was my first digital camera and I'm not a pro - if you're after an expert opinion, DPreview has a full review.
I bought the camera with bushwalking (hiking) and travel in mind, and the following are tips and comments on its usability for that.
Size, Weight, and Robustness
The S330 is a compact camera, small enough to fit into a pocket. This was essential, since I don't want anything dangling off my neck while walking and I don't want to have to stop and take my pack off every time I take a photo. (The S410 is smaller still -- small enough to fit into a shirt-pocket.)
The metal casing gives the camera a robust, solid feel. It also makes it relatively heavy - at 330 grams "ready to shoot" the S330 is no monster, but it's nearly twice the weight of some equivalent cameras. (The S410 is about two thirds the weight.)
I bought a Lowe Pro 8S camera case for the S330. This is nicely padded and the camera feels really secure inside it. The internal pocket of this case also holds a spare battery perfectly -- it's easy to get in and out, but I've never had one fall out accidentally, even though the case gets put down at all angles while I'm taking photos.
Camera Features
2 megapixel resolution and 3x optical zoom is fine for most purposes. (The S410 increases the resolution to 4 megapixels.)
Like most Canon digital cameras, the Powershot S330 has a good range of other features for its class: exposure histogram, focus and exposure lock, long-shutter mode, ISO 50 to 400, etc. There's no manual focus, and no thread for attaching lenses (though a screw-on adapter for 37mm lenses is available).
For some sample photos, check out my favourite New Zealand photos.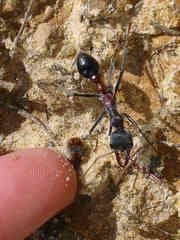 The most significant weakness of the S330 for my purposes is the macro: this is usable down to 18cm -- 26cm at full zoom -- which is relatively poor (some compact digital cameras can focus down to 1cm). It's fine for birds, animals, and plants, but not so good for insects or plant parts, though you can get reasonable results by cropping. (Clive Burns manages a decent "cheap macro"
using an ordinary magnifying glass
- I must try that out.)
The S410 improves the macro to 5cm, which should be enough for anything except specialist scientific photography.
Battery Life
Battery life is obviously a major issue while hiking or travelling.
The Powershot S330 has excellent power consumption. I average 80 to 100 photos on a 840mAh battery, even using the LCD all the time (I don't think I've ever used the viewfinder), taking only a few photos for each power-on, fiddling extensively with settings and zoom, and doing some replaying,
A second battery is essential if you're going to do any kind of serious hiking. I managed an exceptionally scenic 3.5 day walk in New Zealand (the Kepler Track) on two, but I ended up buying three more for a total of five - I've also picked up a cheap car charger.
Tips for charge conservation:
resist the temptation to play with the camera or show off photos while sitting around the campfire
don't bother deleting duds: compact flash is cheap - and you never know whether duds are really duds or not, some of my shots of the track between my feet have turned out to be quite interesting!
The battery charger is nice and compact (though mine, bought from the US, requires an adaptor in Australia). It does take around two hours for a full charge, however.
Accessories
You'll want a decent sized Compact Flash card, both for long hikes and to reduce the amount of time spent looking for a shop that will burn them to CD. But there's probably no point getting a really high-performance card -- the camera just won't write that fast, and with the highest quality and resolution images only one megabyte in size, speed simply isn't as critical as it is with digital SLRs producing 10 megabyte RAW images.
I took 1000 photos in 18 days in New Zealand on my last trip, which meant two stops for CD-burning. I bought a 512MB compact flash card for my Iceland trip -- which was good because I ended up taking over 1200 photos in 14 days!