Ménez Hom, Locronan, Douarnenez
Friday 15th June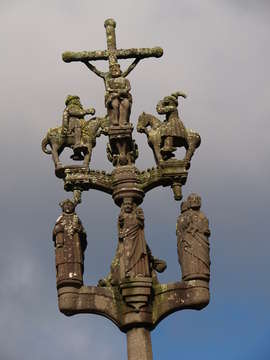 Breakfast was coffee and croissants in a patisserie. Continuing from the previous day, we had a mix of rain and sun, with rainbows.
We drove eastwards onto the Crozon peninsula, up to the little church of Sainte Marie du Ménez Hom. It was very windy up on Menez Hom itself and a bit cloudy and/or hazy, but the panoramic views were still impressive, extending 360 degrees around the peninsula.
Our first megalith of the trip was a cute little mini-dolmen in a corn field, found in the Brittany Walks book I had. It was very pleasant with the sun coming and going.