Huelgoat and arround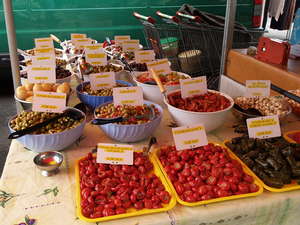 We only stopped in Carhaix-Plouger, a Roman foundation, to go to the toilet, but we bought some nice chocolates from a chocolatier and then discovered that the weekly markets were on. We picked up fruit, bread, roast pork, and drinks and sat by a church to have lunch - the pork was fantastic!
Arriving in Huelgoat, we found a homely B&B run by an Englishwoman. We wanted to see various attractions before they closed, though, so we had a quick coffee and cake and then drove off.
First stop was the Moulin de Kerouat, an outdoor museum with a large collection of old farm houses and furnishings, including a working mill; it also had displays illustrating changing land use. Then we looked at the Allee Couverte Du Morgau Bihan, which sits next to a farmhouse on the edge of a field, before visiting another outdoor museum, the Écomusée des Monts d'Arrée - Maison Cornec, near St Rizoal. This is an old farm with tools, ovens, etc. along with heath ecology displays. A short track winds across a little creek and a washing place.