Morlaix, Barnenez, Roscoff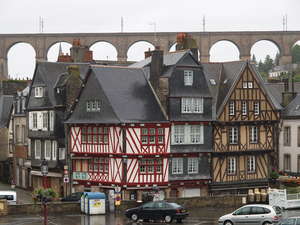 Our first stop was at a market in St Martin, then we descended into Morlaix proper. In a valley, this is dominated by the railway aquaduct which runs across it.
The restaurant "La Reine Anne" mentioned in our guide to the Restaurants du Terroir was closed, but we got eight small cakes from a patisserie. It was mid-afternoon, so many places were closed, but we found a creperie "L'Hermine" where we had tea, a kir, a salad, and two crepes.
Then we headed north to the cairn at Barnenez. This is huge — over 70 metres long — and has chambers one can peer into and in one case walk through, but the small visitors' centre lacks much in the way of interpretive material. Wikipedia has details.
On the way to Roscoff we stopped at Carantec, where we did a very short walk out to a headland viewpoint. It was still raining. In Roscoff we checked into the hotel where Camilla was staying -- we had one single bed only. But we found an open "laverie" and did a big load of washing.