Shuttle to Arusha + Ahadi Lodge
The Impala shuttle left 40 minutes late and took six hours instead of the suggested five, so we didn't get to Arusha until nearly 9pm.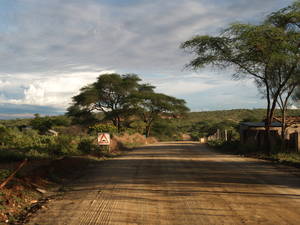 The road was being rebuilt and the stretches that had been finished where really good, without much traffic, but there were long diversions on bumpy roads around the sections that were being worked on.
We stopped about half-way, at a "Paradise Gallery" which would have offered a good view of Kilimanjaro if it hadn't been under cloud. At the border, in Namanga, we got our Tanzanian visas; they didn't ask for our yellow fever vaccination certificates.