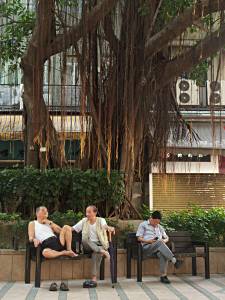 Shopping and alternatives
Monday 4th June
We got up early and had breakfast in a Cafe de Coral, an indigenous Hong Kong fast food chain.
Most of the morning was spent shopping, in Kwan Tong and Causeway Bay. The Page One bookshop in Times Square was ok, but otherwise there wasn't much to interest me, so I spent a fair bit of time outside, just wandering the streets. We had lunch with friends in Tai Koo, at the West Villa restaurant — this included the best BBQ pork I've ever eaten.

I then went up the escalators to the mid-levels, and from there walked up to Victoria Peak. It was hot and steamy but the route was thankfully mostly in the shade. At the top I just had time for a drink, enjoying the view down over Hong Kong and the harbour to Kowloon, then I caught the funicular train down and walked back to the hotel.
After showering and changing, we headed off to dinner in the Marriott Hotel with some of Camilla's family. Fantastic food!
Next: Lantau island
Previous: Tsim Sha Tsui
Up: Hong Kong