Tsim Sha Tsui
art and electronics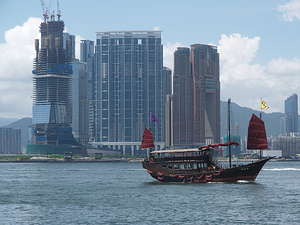 From Central we walked to the ferry terminal and got the Star ferry across to Tsim Sha Tsui. In the early afternoon heat it was rather sleepy, but still a scenic trip.
We looked at the China Arts & Crafts shop, browsed some computer shops, and then went to the Hong Kong Museum of Art. The exhibitions there included: Guangdong painting 1900-1949, the Chater collection, ceramics, a fun high-tech contemporary "Chinglish" exhibition, Lin Fengmian, and gold and jade. All up we spent about two hours in the museum.
The
official site
of
the Hong Kong Museum of Art
has information about their exhibitions, etc. Admission is HK$10, or you can pay $30 for a weekly pass that covers lots of the museums.
Tsim Sha Tsui has streets devoted to computer and electronics shops. Camilla bought an XD card and reader to go with her new camera. I had a look around, but the prices were just not that good (as I'd been warned). We also had some red bean snacks, and generally enjoyed the street life — it's much livelier than Central Hong Kong.
We caught the MTR back to Wan Chai, then walked to a mall near the exhibition centre, where we had fruit shakes in a Pacific Coffee shop and signed up for PCCW city-wide wireless, for just HKD$20/day. (The hotel wireless was 6 times as much!) We were hot and tired, and sitting in the shade was good; it might have been 29 degrees instead of 31...
We got back to the hotel five minutes after Camilla's sister Amy got in. The three of us ended up having dinner in the Hoi Tin (Asia) Harbour Restaurant opposite the hotel (which was ok, but not so good).
Next: shopping and alternatives
Previous: central Hong Kong
Up: Hong Kong