Blarney, Cork + Kinsale
We were staying in a motel in Tower, to the west of Blarney.
We drove into Cork for dinner, in a great little restaurant in the main restaurant strip. (Steven had an iPad and an Android smartphone and did a good job throughout using Tripadvisor to find us places to eat.)
Thursday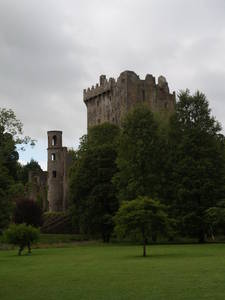 We started the next day with a visit to Blarney Castle. Unless you want to kiss the Blarney stone, which we didn't, there's not much exciting about the castle itself. A picturesque ruin, it is much less interesting than Ross Castle.
Not only is the hygiene debatable, but kissing the stone involves being dangled upside down by two guys, one holding each leg, so you can reach it with your mouth. It's best not to wear a skirt unless you're an exhibitionist.
There's an interesting "poison garden", however, and the rock garden is rather lovely.
From Blarney we headed into Cork, where we parked the car in a soulless parking station attached to a soulless shopping mall (Merchant's Quay), and then did the "Shandon Walk", which goes up to the old city centre on the north of the river Lee.
The highlight of this Walk was the Butter Museum, which tells the story of the Irish dairy industry and the "Kerry Gold" brand. And we had lunch in a cafe next door to that.
In the afternoon we drove down to Kinsale, which is a pretty little town. There aren't many attractions here as such, but lots of little shops.