Cobh + Waterford Crystal Factory
Friday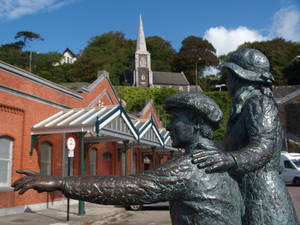 Heading for Dublin, we passed through Cork and got onto the motorway. Our first stop was in Cobh, now a quiet and fairly sleepy town, but at one time (when it was called Queenstown) a major port where cruise liners used to stop and from which some two thirds of Irish emigrants departed.
This is the subject of the Heritage Centre, which has displays on emigration, the Titanic, and related topics. There was also a litle market on the waterfront, and some attractive buildings.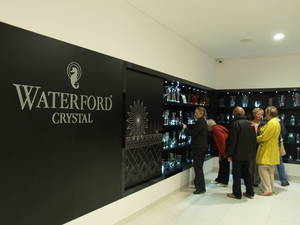 We continued to Waterford, where we got stuck in traffic on the way in and didn't look around the town at all. Our goal was the Waterford Crystal factory, where we fortunately didn't have too long to wait for the factory tour. (None of us had any real interest in buying crystal, and the showroom was more glitz than anything else, with a lot of eye-catching but hardly practical items.)
The tour, however, was excellent, getting to see the different stages in crystal production. Most of the work is still done by hand: the glass melting, the blowing into a mould, the cutting, and the checking for imperfections at every stage. Better photos than mine can be found on the official tour page.