Flora Saddle - Kahurangi National Park
Monday 20th February
We booked the Farewell Spit tour and a motel in Collingwood, bought hut tickets, looked around Nelson's bookshops, and then headed off. Camilla's laptop was left in a lodge in Motueka, where we had lunch in the museum cafe and packed in the information centre car park.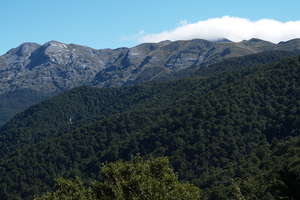 It took us an hour to get to the Flora Saddle car park, which we reached a bit after 4. The the road was steep in places and a little corrugated, but our little car had no problem.
We got away at 4.40 but ten minutes past the saddle we met people going the other way who warned us that there was no water at the hut. So I went back and got another four litres from the car.
On the way up we passed many traps baited with eggs, for stoats or rats. It was pleasant climb in the cool late afternoon, but Camilla was tired and not too fit, so we didn't get to the hut till 6.45. The Mount Arthur hut is a really lovely little hut and we had it all to ourselves.