Cambridge, Te Atawumpu, Oturohanga
Getting to Hamilton, I had some trauma parking, had coffee and cake, picked up some pamphlets from the visitors' centre, and found accommodation in the Flying Hedgehog hostel. I had a shower and a brief nap before trying to head off...
Having left the headlights on, the car battery was flat, but the owner had jump-leads and helped me get it started. A bunch of starving(?) students were eating in, so I gave them the remaining food we'd accumulated — I wasn't planning on doing any cooking by myself.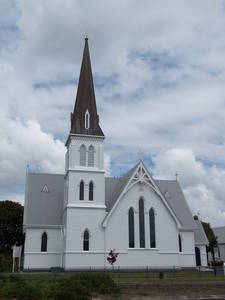 First stop was Cambridge, where I walked around the Te Koutu Lake Reserve. That was really peaceful with ducks and coots and swamphens, and no one else around - I could just hear the traffic noise, but the birds were louder. I looked at St Andrews Anglican Church, a lovely wooden building from the 1880s, with nice stained glass, and had a kebab for lunch.
I continued to Te Atawumpu, where I looked at a small but interesting museum, and then to Otorohunga. Here there's a Kiwi House, where there's a "night house" where you can (sort of) see kiwi wandering around. I couldn't use a flash, obviously, but I got a very dark grainy photography at ISO 3200. There are a lot of other birds in other aviaries, or wandering around outside, and I had fun photographing some of those.
Then it was back to Hamilton.
Next: Hamilton Gardens
Previous: Waitomo Caves + Rangiri
Up: Coromandel, Tongariro, Waikato, Auckland