documenting my stay in the UK (2010-2015)
Masai Mara, Nakuru, Serengeti, Ngorongoro (2011)
Mont Blanc, Geneva, Interlaken, Lucerne, Basel (2010)
Istanbul, Bergama, Selcuk, Konya, Goreme, Ankara (2010)
the Mekong Delta, Phnom Penh, Angkor (2009)
food, architecture, megaliths (2007)
New Zealand's Marlborough + Nelson (2006)
from the steppes to the metropolis (2005)
Coromandel, Tongariro, Waikato (2005)
walks, birds, buildings (2003)
New Zealand travelogue (2003)
Westland + Southern Alps (2002)
Chitral, Gilgit + Kashgar (1999)
with an Oxfam study tour (1998)
London, Barcelona, Toulouse, Paris (1997)
volcanos and deep valleys (1994)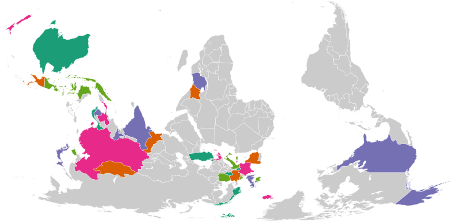 travel links
Thai police raid bridge club -
SMH
"The gathering violated a 1935 Playing Cards Act that prohibits the possession of more than 120 playing cards at any one time"
human-hyena friendships in Harar -
Azimuth
"small change" - a stone currency up to 3.6 metres across and 4 tons in weight -
Wikipedia
did monkeys raft across the Atlantic from Africa to South America? -
BBC
it's a lot cheaper for Britons to become Australian than vice-versa -
Economist
container ships are getting even bigger: US ports are scrambling to get ready for them -
IBTimes
the Moscow-Archangel train as a gauge for Russian history -
Economist
George Monbiot answers questions about rewilding Britain -
HillWalking
are Britain's National Parks 'ecological disaster zones'?
between East Africa and South Asia -
Medium
go to a random travelogue page
You can support this site by buying books through Amazon.
I hope you enjoy reading about my travels! — Danny