Oturere and Waihohonu Huts:
Tongariro Northern Circuit
Monday 21st February
We were up to watch the sunrise at 6.30, but then went back to our sleeping bags and got another hour's sleep. We had soup and muesli for breakfast, then set off into a beautiful cloudless day.
We were doing the Tongariro Northern Circuit, rather than the Tongariro Crossing, so we now had to climb back up to Blue Lake and retrace our steps to Emerald Lakes.
There we left our previous day's route and descended to Oturere Hut, through a devastated lava landscape that I think was used to film Mordor.
Oturere hut is in a slightly greener area, with a stream and a small waterfall nearby. The hut warden had just come back from looking for wind-seeded Pinus contorta.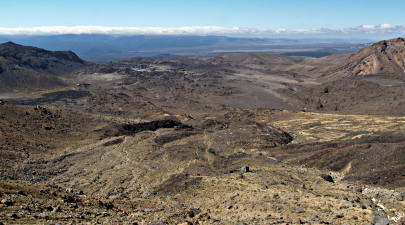 From Oturere Hut the track goes through desert, dominated by the looming peak of Ngaurahoe — Mount Doom — on the right, and with the snow-clad Ruapehu further away but getting larger as we went on. Towards the end it winds through beech forest. We had fun photographing plants and the occasional insect.