Geneva
Friday 30th July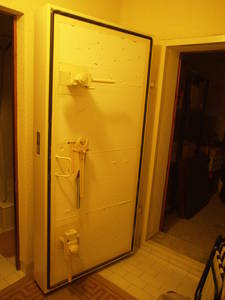 Carole met me at the airport and whisked me off to her house in Genthod, a suburb north of Geneva. I hadn't seen her for something approaching a decade, but she hardly seemed to have changed at all! I'd met her husband Nathaniel before, but not her children or mother-in-law (who would be looking after the kids while we all went hiking).
Staying in their basement room, I got to see an example of the bomb shelters that were mandatory in Swiss houses until recently. It's used for long-term storage.
Saturday 31st July
Nathaniel and Doreen were off to the market (in France). I took the train into Geneva, walked down to the Rhone and across one of the bridges, and wandered around the old town. This turned into something of a religious tour, since I saw the synagogue, the Reformation Monument, the Russian Orthodox church, the Museum of the Reformation, and the Cathedral.