Faulhorn walk: Schynige Platte to First
I got into Interlaken before 5pm and had time to check in to my hotel and go for a walk around town. For dinner I had perch fillets with vegetables and potatoes, from the Cafe du Paris. This was 26 francs, but was the best meal of my trip so far, so that didn't seem too bad.
In Interlaken I stayed in the
Hotel Rugenpark
(
web site
), which was by far the nicest of the three hotels I used on this trip. It was the cheapest, it was clean and comfortable, and it had the most reliable and fastest wireless Internet.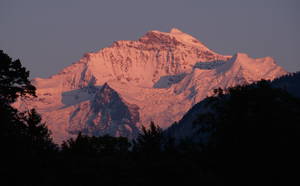 More importantly, it's run by a couple Chris and Ursula who were both really friendly, though I talked the most to Ursula. When I arrived she quickly worked out what I wanted to do (hiking, basically), and equipped me with information for getting to and from the walks, advice on where to get dinner, and even the times for the train to Lucerne when I left.
And I had a view of the Jungfrau out my window!
Sunday 8th August
A bus took me from Interlaken West to Wilderswil, from where a cog railway runs up to Schynige Platte. There's a nice little Alpine Garden there, but I didn't have time to look at that and really just walked through it. I did do the detour over Oberberghorn, however.
The walk from Schynige Platte to First is recognised as one of the great daywalks of the Swiss Alps. It starts with an ascent on a cog railway and ends with a cable-car descent, so although it is almost entirely above 2000 metres there's only about 800m of ascent and 700m of descent.
There's dramatic local scenery, with various peaks and lakes, and grand views of the main range above to the south, with a row of peaks over 4000m including the Eiger, Monsch and Jungfrau, and of Interlaken below to the south, with the lakes on either side.