Phnom Bok + Banteay Samre
Friday 20th November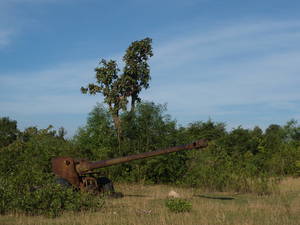 We got up at 6, had breakfast in the eatery next door, and headed off early to Phnom Bok. Something had come up and our regular driver Yan was replaced by his brother Alex. It was pleasant in the moving tuk-tuk.
On the way we stopped to look at some rusting military hardware from the wars.
There are 630 steps up Phnom Bok, so Richard waited at the bottom while I went up; even at 8.15am it was getting warm. The ruins are photogenic and there were good views even though it was a bit hazy — Pre Rup was visible in the distance. There's a military observation point on top.