Plymouth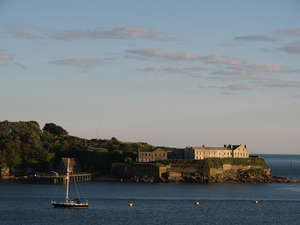 Coming from Roscoff, in
Brittany
, our ferry got into Portsmouth late in the evening, but the setting sun gave us nice views of the port. We took a cab to our B&B, the appropriately named Brittany Lodge.
We were a short distance from the Hoe, the big open parade ground that sits on the headland looking out to sea. Camilla was tired but I went for a short walk around this, looking at memorials for the RN, RAF, Drake and the Armada. I still had a nasty shin splint in my right leg.
Sunday 8th July
We got up early - around 7.30 - did some laundry, and then had a full British breakfast - sausage, bacon, egg, beans, tomato - which was rather good.
Camilla did some work on her paper while I went back to the Hoe to look at war memorials: the Falklands, Korea, Normandy, 1st Army (Africa), Polish, Dunkirk, 997 Vikings, Malaysia, Burma, the Boer War. It was very quiet.