Guérande and salt marshes
In Guérande we found accommodation in the Hotel des Remparts, just outside the old town, with a view of its walls. Here they wanted to see our passports for the first time on our trip. After dinner in the restaurant attached to the hotel, I took a short walk by myself around the old town. (I found some of the hotels we'd been looking for were in here, where cars can't go.)
Wednesday 20th June
The markets were on! We wandered around the stalls, bought coffees, fruit, sausage, bread, cakes and had a good breakfast. It was a beautiful day, with clear sky and sun, but a strong breeze keeping it pleasantly cool.
The "ramparts museum" has local costumes, photos, etc. and allows you to walk on the ramparts, which offer good views of the town rooftops.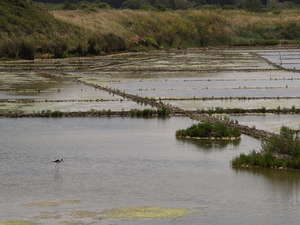 Reluctantly leaving Guérande, we drove through the "marais salants" or salt marshes, where we stopped at a salt-making cooperative "Terre de Sel". That had a great exposition explaining how the marshes were managed and the salt collected; there was no tour on, but we looked at the ponds that were right next to the building.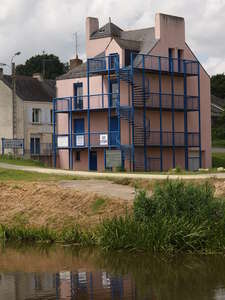 From there we accidentally took a bit of a detour to the coast, to Piriac-sur-Mer, and we went to see the menhir "le Fuseau de la Madelaine" before getting back onto main roads. We stopped at St Gildas de Bois to buy some ham and juice, and then had a picnic lunch on the Nantes-Brest canal.
Next: megaliths near St Just
Previous: La Roche-Bernard + the Grande Brière
Up: Brittany