309 Road: Castle Rock, Kauri grove, Whitianga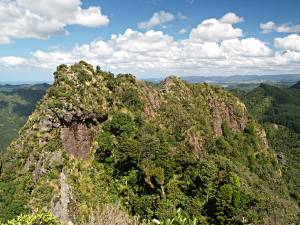 We skipped the first attraction along the 309 Road - the Waiau Waterworks with its "whimsical displays of machines, gadgets, and playthings, all worked by water".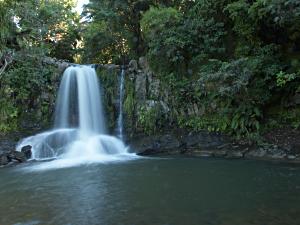 Turning off the 309 Road onto logging roads, we made our way to the base of Castle Rock, where there's a short but steep scramble to twin peaks. There were impressive views from the top, extending to both sides of the Coromandel peninsula, to Whitianga in the east and Coromandel Town in the west. But extensive areas of plantation pine, some of them newly logged, did detract from the view.
There's nothing that exciting about Waiau Falls, but it was a nice peaceful spot and we had it all to ourselves. I got to try a long-exposure photo using my tripod.
Almost all the Kauri trees on the Coromandel were logged, but scattered areas remain. The 309 Road Kauri Grove is a pleasant survival.
In Whitianga, we found the conference venue without problems, but soon discovered that there wasn't room for us in the flat the Sydney Uni contingent had rented for the week. We could sleep on the floor if we really wanted to, but there were already eight people sharing one shower and one key!
So we went hunting for accomodation. As we were to find out again, in New Zealand it's essential to book ahead if you want somewhere to stay on a Saturday night: there's a huge amount of internal tourism, even outside school holidays.
Cruising around after 8pm, we eventually found a run-down motor camp with a slightly decrepit caravan. Not much in town was open, but the bistro at one of the pubs saved us from going hungry.
Next: Kauaeranga Kauri Trail: the Pinnacles
Previous: Miranda Shorebird Centre
Up: Coromandel, Tongariro, Waikato, Auckland