A look at the new Warneford Lane cycle tracks, put in in 4-7 July 2022.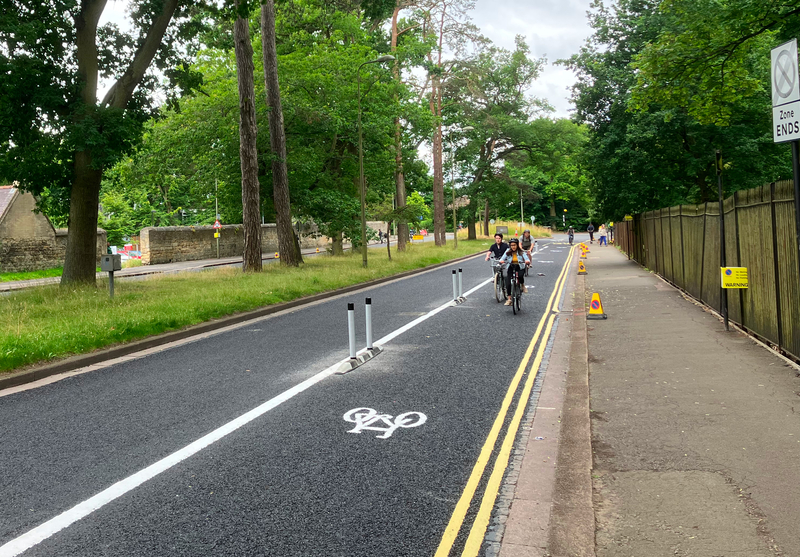 The previous cycling provision on Warneford Lane was so bad it was actually dangerous, and Warneford Lane was a major obstacle to cycling. It deterred many people from cycling at all and left others stressed and worried, for themselves or for their children (it was the worst bit of the nursery-run I did for three years). But this 250 metres or so has gone from being one of the worst places to cycle in Oxford to one of the very best. Together with the East Oxford LTNs, it enables safe and accessible cycling routes from East Oxford to Cheney school and Brookes university, and towards the hospitals and Headington.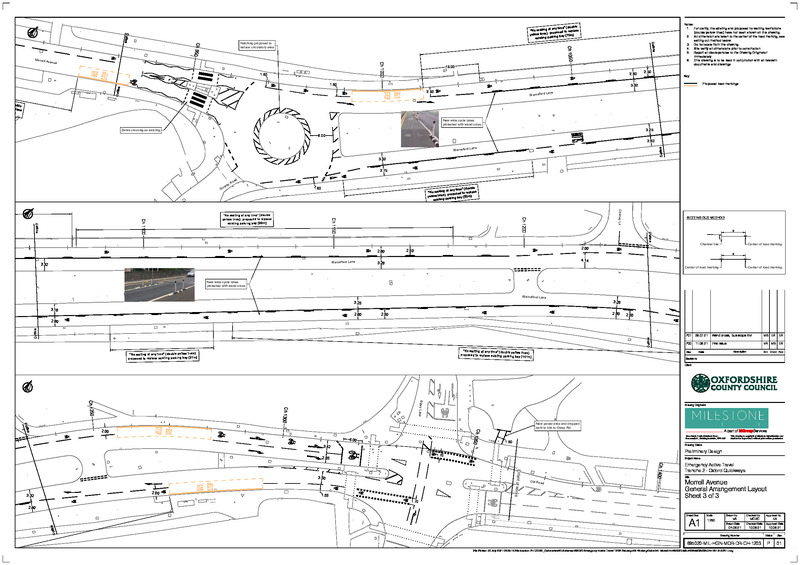 Coming from the southwest, the new provision starts at the roundabout with a 1.8m advisory cycle lane. Afer a bus stop it resumes as a 2.5-2.8m wand-orca protected track, narrows to a 2m advisory lane just before Cheney Lane, continues past that and then disappears at a bus stop. Westbound it is much simpler, with the track starting at the bus stop and continuing to the roundabout with just a short drop to advisory cycle lane at the minor Warneford hospital entry.
Some observations, with suggestions for changes in bold
Watching the eastbound traffic just after the wands were put in, my first thought was: Heck, there are a lot of people cycling here! There were maybe 3x as many cycles as cars (at 9.30am on a Tuesday).
While I was observing, a woman went by with two small kids, cycling contraflow on the pavement, and I heard her saying (of the cycle track): "On the way back you can test it out". This is now one of the few places in Oxford one could happily cycle with two small children. (But getting across Warneford Lane to the track heading in the right direction is clearly a problem for some.)
The wands are too widely spaced to stop cars entering and I fear the track will be parked on, most likely by parents dropping kids at Cheney just when cycling volumes will be highest. We will need to see how this works out. (The track is wide enough for easy overtaking — probably even for Pedal&Post trikes — so narrower wand spacing wouldn't be problematic.)

Update: with four months experience this seems not to be a problem.

The surface is pretty poor. There is no loose gravel, but it feels quite rough and won't compact just with cycling. At a minimum it needs a couple of passes with a heavy roller, preferably on a hot summer day. But really, as Graham Smith suggests, it should have a proper additional layer of coloured asphalt (which would also provide a slight "kerb" and maybe allow the double yellows to be moved outside the wands).

I wrote this in a letter to Andrew Gant and Dan Levy:

"In response to concerns about the rough surface on the cycle tracks, Andrew wrote "On Warneford Lane the surface will become smooth with time, even with bicycles using the route." I see no signs of improvement after three months, in contrast to the car tracks on the motor traffic lane which are starting to smooth. If smoothing is linear with weight, I estimate (with the conservative assumption that motor vehicles are 10x the weight of cycles) that it will take two and a half years for the cycle tracks to become smooth. If smoothing varies with the fourth power of weight (as road damage does), then it will take three hundred years. There may be no funding for fixing this now, but can we make sure guidance is in place to ensure that future cycle lanes or tracks are not surfaced in this fashion?"

The new layout is much better for pedestrians. They have to cross the cycle track as well as the carriageway, but visibility is vastly better than with the parked cars and they can wait in the wide cycle lane if necessary.
Vehicle speeds on Warneford Lane vary a lot. I saw one white van doing at least 40mph, but many drivers (including some taxis) were clearly sticking to the 20mph limit. The novelty of the layout may be having an effect (or my standing there ostentatiously taking notes).
Cycling is interrupted by two bus stops on the north side and one on the south side. With lower motor traffic levels (post-COTS) it might be possible to have buses stop in the carriageway instead of the cycle track. The cycle track would need to be raised at the stops (for wheelchairs etc) and narrowed (to provide space for safe alighting). The layout of a scheme in Camden illustrates how this might work.
There should also be a continuous footway across Cheney Lane - flat for pedestrians but with motor traffic going up and then down again.

Wands can't be used immediately east of Cheney Lane because they'd get in the way of vehicles using the u-turn cut-through, and on the west side they'd block buses getting to the bus stop. So options for stopping vehicles pulling up and blocking the cycle lane at the junction all require enforcement. To make that easier, the junction corners could be red-lined or zig-zagged, or a yellow hashed junction box put in, covering the cycle track across the junction. A camera could then be used to enforce this, possibly also enforcing a School Streets scheme.

People cycling need to use the u-turn cut-throughs - coming out of Cheney Lane, to get into the track leading southwest towards Divinity, and coming from Old Rd to get into Cheney Lane. So there should be cycle symbols in the motor traffic lane on both sides of the cut-throughs, to alert drivers to people cycling potentially cutting across their lane. These could be angled at 45 degrees to mark the likely direction of travel by people cycling.

There should also be cycle symbols to warn drivers to expect cycles crossing in front of them to turn right onto Roosevelt Drive.
And of course this entire scheme is just a step in an ongoing process. We need a complete redesign of the Warneford-Gypsy-Old-Roosevelt intersection (possibly as a Dutch-style roundabout), a fix for the horrible cycling provision on Old Rd, the Headington LTNs, and more.
This post began as a twitter thread.
0 Comments »
No comments yet.
Leave a comment