Pete was running the Chicken Beauty Contest at the Binsey Fete, so I cycled up the Thames Path to see what was happening.
Binsey is a tiny village - maybe twelve houses in total, with a pub (the Perch) and a church (St Margaret of Antioch), which has a Grade II listed treacle well. It is actually entirely separated by floodplain or farm from the surrounding urban areas, but is only a short distance along Binsey Lane to Osney and the Botley Rd, across the Thames and Portmeadow to Jericho, or further up the Thames to Wolvercote. (Pretty much the entire village is owned by Christ Church college.)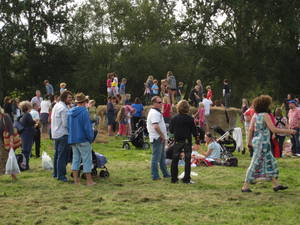 It was a glorious autumn day and the fete was on a rather larger scale than the village - we sold 400+ tickets to the Chicken Beauty Contest and an entire roast pig was disposed of, so there could have been nearly a thousand people there at one time or another. There was live music, Morris Dancing, a few stalls selling bric-a-brac and books, tea and coffee and cakes, and lots of entertainment for children.
Jack did almost all the work selling tickets - which doubled as raffle entries: first prize was a watercolour of a chicken painted by the vicar's mother - so I got to sit in the shade and chat with Pete and an assortment of other people who turned up (most of whom I knew through gamelan).
The captions or mission statements that accompanied the chickens were a real hoot, probably making the display more fun for adults than for children. Here's a transcript of the photo above (background from Wikipedia):
The Bullingdon Club
A Dining Club for the elite sons of exhibition strain Pekin bantams. Having been selected over their less promising brothers and cousins, these young cockerels will ultimately look forward to an arduous round of duties including public appearances where they are required to look handsome and behave politely, fathering chicks who must also be handsome or beautiful and, to a lesser extent, keeping the peace amongst their female followers. However at this tender stage of their lives, they have little to tax them apart from eating, growing and a bit of posturing.
After the raffle winners were announced and the chickens were packed for transport home, I cycled home via Jericho and the Albion Beatnik bookshop.
4 Comments »
Who won? We had to leave early so couldn't stay for the results, but are keen to know which was the most beautiful chicken in Binsey! Thanks.

I can't remember the team name - was it Team Horace? - but it was the Silkies (at the back left of the tent) that won, followed by Team J.

I can see dinner on two legs. Free range chickens, they taste sooo different.

The deadpan reference to the treacle well compels me to seize on the reference to morris dancing as the pretext to pass on this bit of intelligence:

The men of the MTM (Minnesota Traditional Morris) invariably wear green baldrics with a yellow badge in the center; the badge bears a dancing moose, framed in green laurel leaves. Thus the MTM may be readily identified as men of moose laurels.
Leave a comment