What is it? It's a Kettler Spirit, the product of a respected German company which sells online into the UK (though they do have a showroom in Redditch as well). Basically an upright city bicycle: what one might call a "Dutch bike" or a European city bike, though it's fundamentally pretty similar to my other bike, a thirty year old English three-speed roadster. The list price for it was £595, but Kettler have sales a couple of times a year and I picked it up for £295, including VAT and delivery.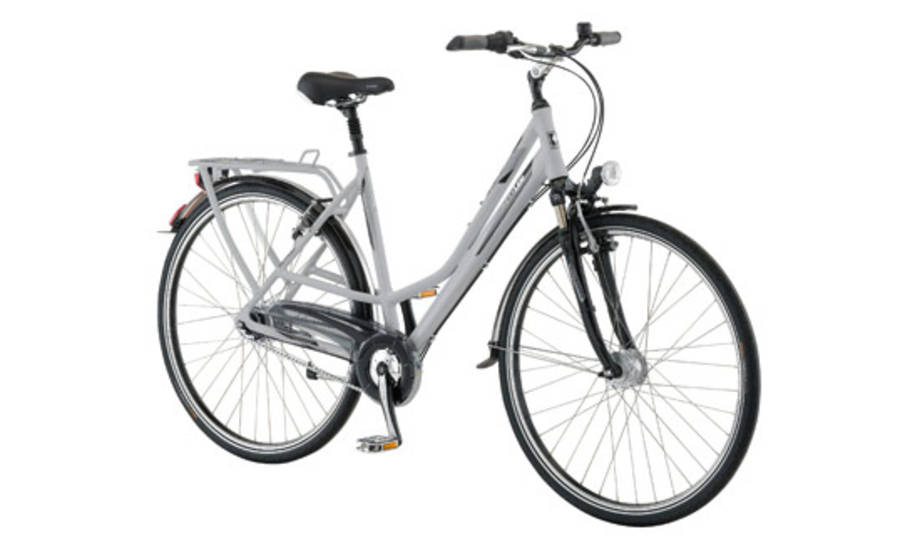 The bicycle came fully kitted out: not just with mudguards, kickstand, chainguard, and integrated rear pannier rack, but with a suspension fork and seat post, dynamo lights, a built-in parking lock, and even an emergency pump! This is the very opposite of a "buy it naked and spend £100 adding necessary extras" cheapie, or a racing bike stripped for speed. The only assembly needed was screwing on the pedals and rotating the handlebars, but I took it to my local bike shop to have a proper set up. (I looked at buying something from them, or one of the other shops in Oxford, but they didn't have much in this style — certainly not at that kind of price.)
Even without all the extras, the new bike is an improvement on my old three-speed in almost every area. The frame is aluminium, which means it's no heavier, even with the extra components. I bought the 47cm step-through ("women's") model: being able to wear long skirts aside (hardly relevant given the typical skirt lengths in Oxford), for a utility bike the convenience of being able to stand comfortably over the bike and the option of mounting centrally more than offset a little extra frame weight, especially if one may want a rear-mounted child seat. The handlebars are highly adjustable and the grips are more comfortable.
The Shimano Nexus 8-speed hub gives me a much broader gear range - 304% instead of 178% - especially at the bottom end (I haven't done a quantitative comparison, but 2nd feels lower than 1st on the old bike and it's now possible for me to spin slowly up Headington Hill). And gear changes are much smoother, whether shifting stopped or under load. (I have managed to disengage the hub while testing it, but only by changing down multiple gears while at high speed, which one never needs to do when one can shift while stopped.) Compared to a typical 21-speed derailleur chainset, this hub is missing maybe one gear at the bottom and two at the top: I might have missed having those once or twice in my first four months.
There's a standard set of front and back rim brakes, but the braking seems significantly better on the aluminium rims than the brakes on my three-speed, especially in the wet. And the front brake cable has some kind of built-in throttle that is supposed to stop dangerously fast braking, which I haven't tested either.
The dynamo lights mean never having to fumble around to find and mount lights, or forgetting them. (The Kettler page says both lights are halogens, but the rear one is actually an LED with a standlight; I'll probably replace the front halogen with something similar at some point.) The parking lock is convenient for short stops and offers some extra security, and is painless to use. And I'm totally sold on the suspension fork and seat post: there are plenty of uneven road surfaces and potholes in Oxford (and some of the routes the cycle tours use aren't surfaced), so the suspension makes for a faster and/or more comfortable and safer ride. Yes, all of those mean some extra weight, but this is a commuting or casual touring bike, not a racing bike, so comfort and convenience really take precedence.
Comfortable, reliable, designed for everyday use... something like this is surely the ideal commuting bike in Oxford as well as Copenhagen or Berlin. But, as others have noted, this kind of bike is actually extremely rare here: most of the bikes one sees have pannier racks and/or baskets, maybe 80% have mudguards, maybe 60% chainguards, and maybe 15% hub gears (mostly old three speeds, a few "Dutchies"). Parking locks, dynamo lights and suspension forks are extremely rare. Partly that's new students picking up whatever is left behind by those leaving — some of the bikes look and sound like they're about to fall apart at any moment — but there are plenty of working commuters who could easily afford a few comforts.
I'll update this review when I've done some real mileage on the bike; mostly I'm posting this in case anyone wants to take advantage of the Kettler sale. [Note: Unfortunately Kettler Dierct is no longer selling bikes in the UK, though they could be bought from German sellers.]
16 Comments »
It looks like you got a real bargain. Uppsala is a typical university town, and full of bikes. The commuters also use them to get to the station. Indeed, there are nearly as many km of bikeways as roadways, and you can't move in the centre without tripping over bike racks. Mind you, it is pretty flat around here, so a bike is no hardship. Almost all of the bikes are "city bikes", and like you we can occasionally get them for half price. A built-in lock is pretty compulsory — you rarely see a padlocked chain or kryptonite lock. English visitors always seem to be amazed by this. The bikes mostly have coaster brakes, so that they can be used in the snow — the bikeways are ploughed just like the roads, and Swedes refuse to admit that the weather has any affect on life. You definitely get used to pushing off without being able to backpedal. I envy your integrated rear rack, though, and especially the suspension fork.

David, I wouldn't want to leave a bike just locked to itself for any length of time in Oxford! But it's nice having the parking lock for quick stops when shopping.

Braking on the aluminium rims is definitely better than on the steel rims of my older bike, but I have no idea how it would work in the snow. I think if the weather were really inclement I'd want coaster brakes too.

The integrated rear rack will be reassuring if I put a child seat on it - the fitted racks are sturdy enough, but nothing like solidly welded joints. And the suspension forks are an unexpected plus - the potholes don't get patched fast, and there are some really bumpy routes like the towpath through north Oxford.

Looks like a nice City Bike, and you've got a good price.

If you aren't sitting upright then you don't need suspension forks for potholes -- you go around, or over them, to protect your rims. And in the worst case use your arms and legs for suspension.

V-brakes on brush aluminium rims like those should fine. I have had not trouble in pouring rain with mine, just allow a bit of extra stopping distance. Never ridden in snow though.

I have a Kettler Berlin Royal - their top of the line city bike, with cool retro styling that resembles nothing so much as a prewar motorcycle. It's magnificent to look at and rides like a magic carpet - albeit a lumbering 40+ pound one, as this bike is BIG!

Hi just wondering how you have got on with the Kettler Spirit after a year using it, Kettler have a sale on again and I am just wondering if you encountered any problems. Thanks in advance.

Gareth, I'm still really happy with the bike. When I thought it had been stolen (turned out I'd just misplaced it) I was all ready to buy exactly the same model.

And I'm no bike expert, but people more savvy than me who I've shown it to also reckon the Kettler sale bikes are real bargains.

just bought same bike 2015 price £170 great bike delivered free and boxed

Where did you get this for £170? I'd buy five at that price, and either give them to all my friends as presents or strip them for parts to flog on ebay!

hi saw advert in Bristol gumtree gave him a call funny thing is he had 3 bikes to sold asked him if its a mans answer was yes he delivered when he said he would box had picture of mans bike when I opened it inside was ladies bike but im happy with bike and what a bargain david

hi been riding bike nearly every day great bike no problems at all

I have a Kettler City but have after changing the back tyre I lost one back wheel nuts. I can no longer fix the back wheel no.
I need a new set of back wheel nuts. Halfords don't have them.
Can anyone help.
Thanks, Rob.

Hello, Please can someone tell me which website to go to to buy a Kettler bike in their sale. Thanks, Carol

Unfortunately Kettler UK is no longer selling bikes. I don't know what I'd do if I had to replace my bicycle now - something like this https://www.gazellebikes.co.uk/bikes/chamonix-c8/ looks similar, but costs £800.

Buying from Germany is a possibility - something like this https://www.fahrrad-xxl.de/kettler-city-cruiser-ergo-x0024740 - but the current exchange rate doesn't make that as attractive as it used to be.

My wife and I lived in Germany for 7 years and both had Kettlers. Now, 20 years on, I recently picked up a mint Kettler Touring bike for my wife - 24 speed, front and rear suspension and a full set of unused Kettler panniers. The seller had listed it 3 times on Ebay but no-one was interested. I guess no-one in the UK knew what a Kettler bike was. A bargain at £100!

Thanks for this review
I've been struggling to find any Kettler reviews / imformation
I've seen a second hand e- bike I'm interested in
If you know of anywhere else I can find information or opinions
Please say so

Hi Ruth, I don't know much about e-bikes, but a lot of their value is in the battery, and it's hard to know what condition a secondhand battery is in. See https://www.cyclinguk.org/article/guide-e-bike-batteries

My non-ebike Kettler is still running great after six years and probably 12,000 kilometres.
Leave a comment