The last six months have been dominated by a few series and rereading of favourite books, but have also seen Helen tackling her first really solid novels.
Books that Helen has read and reread include Alf Prøysen's Mrs Pepperpot Stories (a chance secondhand dicovery), Pamela Travers' Mary Poppins books, and Hans Magnus Enzensberger's The Number Devil.
Then there are three series of short books she has devoured (these are short enough she can read one in a sitting, and might suit younger or less precocious readers). A chance find in Blackwells, picked by Helen herself, was Helen Peters' An Otter Called Pebble. This led her to read the entire series of (now eight) Jasmine Green books, about a girl who lives on a farm and rescues animals. Two other series she got into were by the prolific Alexander McCall Smith, set in Botswana and also involving animals: one features a young Precious Ramotswe (protagonist of The No. 1 Ladies' Detective Agency) and the other a boy called Akimbo.
Some longer reads — 300+ pages, with continuous narratives — include Helen Peters' The Secret Hen House Theatre and The Farm Beneath the Water (she started but didn't proceed with Anna at War), Barbara Sleigh's Carbonel, and Grace Lin's When the Sea Turned to Silver.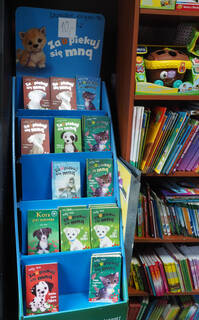 Shorter books include Elizabeth Laird's retelling of the Shahnameh, Clive King's classic Stig of the Dump, the "Horrible Histories" Rotten Romans and Groovy Greeks, Ted Hughes' How the Whale and Other Stories, Joan Aiken's A Necklace of Raindrops, Holly Webb's The Hideaway Deer, and Bernardo Atxaga's The Adventures of Shola. (In a little bookshop in Jelenia Gora, Poland, I noticed a whole display devoted just to Holly Webb's books, and it turns out she's very popular in Russia and Poland.)
We took turns reading James Thurber's The Wonderful O and The White Deer, reading about half each. I've also read Helen individual chapters or short stories from the books I've read myself: "Postscript: A Whale's View of Man" from Antonio Tabucchi's Message From the Shadows, the first two chapters of Alex Kerr's Lost Japan, chapter one of Mavis Doriel Hay's Death on the Cherwell, "Yellow Fish" from Ambai's Kitchen in the Corner of the House, "Maria and Jose", "Alone" and "The Treasure Chest" from Strange Language, the chapter "Kyoko's Place" from Wu Ming-Yi's The Stolen Bicycle (which Helen found for me in Topping Books in Ely), and "Bees are Industrious" and "Luisa's Friend" and "Casa del Rey" from Hebe Uhart's The Scent of Buenos Aires. I also read Poe's "The Raven" to her, after I explained why Mortimer in Joan Aiken's Arabel and Mortimer Stories says "Nevermore".
And Helen still likes to go back and reread her picture books, including some of the very simple ones!
Note: I would recommend all the books mentioned here, except for the Horrible Histories and Death on the Cherwell (and possibly the Holly Webb). I'm also ambivalent about Lost Japan, but that needs a full review.
0 Comments »
No comments yet.
Leave a comment