The Charlbury Rd area in north Oxford has a major problem with road danger at school drop-off and pickup times. Large numbers of school-run vehicles arriving and stopping and departing in a short period of time create congestion, along with turning and reversing movements that endanger people walking and cycling.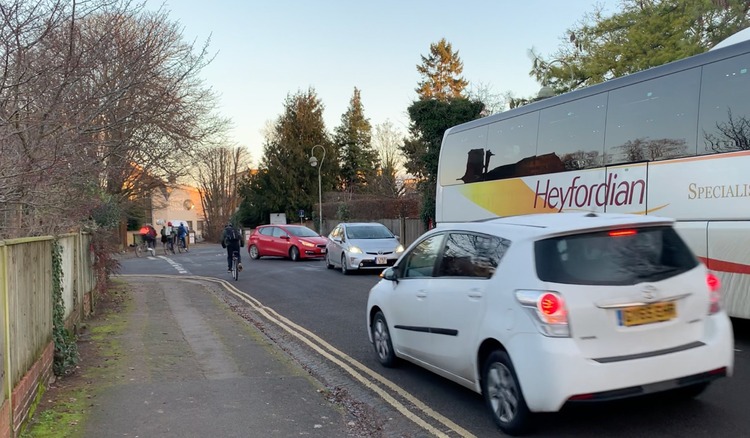 The area also has a problem with coach parking and coach movements. There is some designated coach parking along Charlbury Rd, which was intended for the private school bus service but is used by all kinds of coaches. As well as being hazardous in their own right, coaches take up space and force cycle-car interactions; they also impede visibility.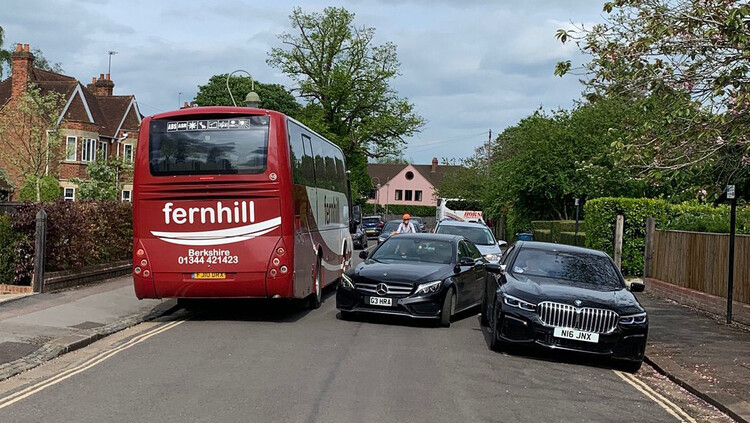 As well as being a key route for children walking or cycling to the schools in the area, the Charlbury Rd area is used by many other people, commuting, going shopping, and so forth. Charlbury Rd itself is part of OXR5 (in the Local Cycling and Walking Infrastructure Plan) and National Cycle Route 51, while LCWIP routes OXN4, OXN5 and OXN6 run west-east into the area. The cycle counter on Dragon Lane records 500+ cycle movements a day.
| | |
| --- | --- |
| | |
This has been an area of concern for many years, with residents repeatedly raising it with both schools and councillors. I was at a meeting where one resident said they felt unsafe cycling along here themselves, with multiple encounters a week which left them shaking. Another said their teenage child would no longer cycle at all after experiences here and on Banbury Rd.
The schools in the area are the Oxford High School and Wychwood School (secondaries) and the Dragon School and Oxford High Preparatory School (primaries). Wolfson College is also in the area, and it is a major access route to the Cherwell school (secondary), as well as to the Swan school (secondary), to city centre schools such a New College School and Magdalen College School, and to the central university colleges.
a solution
Speeding is a small part of the problem, so traffic calming measures such as speed humps are not a solution. There are infrastructure changes that might help, and which might be flagged by a safety audit of NCN51 that is being undertaken. But these would only address local problems — rebuilding the Bellbroughton-Charlbury junction to make it safer, for example, would do nothing to reduce the danger created by cars turning in the Charlbury cul-de-sac area — and a complete redesign of the area would be very expensive and would only partially solve the problems.
The basic problem is too many motor vehicles accessing a constrained space at the same time, so the most straightforward solution is to prevent most vehicles entering the area at key times, using a School Streets scheme. (The entire area is already a Low Traffic Neighbourhood, so through traffic is not a problem.) This would restrict motor vehicle entry into the area at key times - typically two one-hour periods each school day - to residents, local businesses, blue badge holders, taxis, and other exempted vehicles.
The design of such a scheme is fairly obvious: three ANPR cameras on Bellbroughton, Linton, and Bardwell Rds, at their junctions with Banbury Rd (marked in red on the map above). Any other location would simply shift the congestion and dangerous turning movements, most likely to Northmoor Rd. This would probably need to be accompanied by cameras on Park Town and Norham Gardens and Norham Rd (marked in blue on the map above), to stop road danger being displaced from Bardwell Rd to Benson Place.
This would be a larger scheme than the others deployed so far in Oxfordshire, but there are precedents elsewhere. The following is the map of a Waltham Forest scheme involving seven cameras and three schools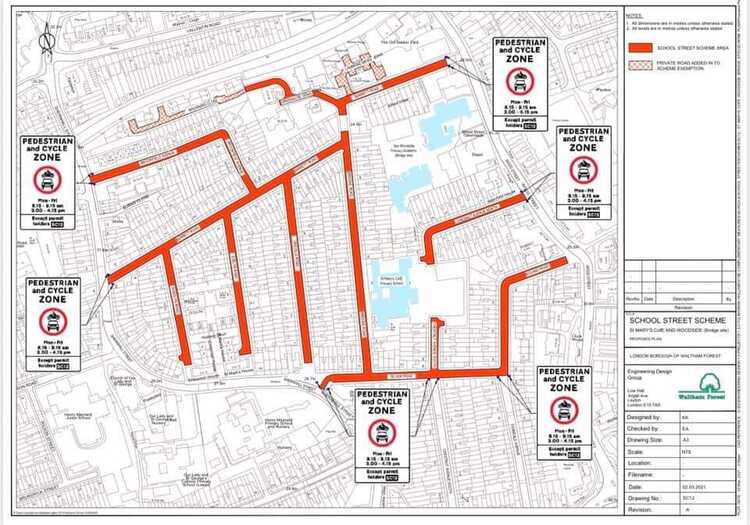 A School Streets scheme should be accompanied by a reconsideration of coach parking provision (probably in the context of provision across the city) but would not need to wait on that.
Because a scheme like this involves so many schools (and other institutions), it will only happen if the county takes the lead on it, rather than waiting for the schools to initiate the process.
modal shift and alternatives
By reducing road danger, a scheme like this would enable some children to shift to walking or cycling. It would also encourage patronage of school bus services.
Secondary school children should be able to walk moderate distances to school unaccompanied, and those that can't, for medical or other special needs, would be given exemptions to the School Streets scheme (along with blue badge holders). Children attending Oxford High who need to be transported by car for other reasons could be dropped off in the Ferry Leisure Centre car park and walk from there, using the subway to cross Marston Ferry Rd.
Dragon School children could be dropped off and picked up at the Park Town entry loop, with the school running a supervised walking shuttle if deemed necessary for safeguarding.
And there will be other schemes that could be used to help children get to the schools in the area. But the basic constraint is that it's simply not workable for most to be dropped off by private cars directly at school.
1 Comment »
This is an accurate summary of the situation, I and many others have been pushing to make this a safe route to school since 2020 and have concluded that no other measures have worked so a School Streets scheme implemented by the Council with the support of all of the schools concerned is the only viable option .

Excellent work Danny, thankyou
Leave a comment