Camilla and I, joined by Camilla's colleagues Rosalind and Madeleine, drove to Kent to visit Charles Darwin's home, Down House.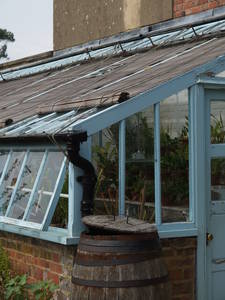 We started with tea and coffee, as some of us were caffeine addicts, then went on the noon tour of the garden. There are some modern replicas of Darwin's experiments on weeds - exposing e.g. a 3 foot by 4 foot areas of soil and seeing what sprouts there, and what survives. There's a "wormstone", consisting of iron rods pushed down and implanted in the bedrock, their tops level with and just poking through a round "mill stone" (which has now dropped maybe 5cm). And there are the original greenhouses. They've tried to plant those, and the experimental and kitchen beds, with plants that might have been there, based on Charles' experimental records and Emma's garden purchases.
The property was used as a girls' school for twenty years in between the last Darwin residents and its reincarnation as a museum, so most of the furnishings, etc. have had to be recreated.
Downstairs has been recreated much as it was in Darwin's time, based on photographs and documentary sources, though the school apparently preserved his study as it had been on his death. There's also the living room, where the family seem to have done a lot of reading, and a dining room. The kitchen is now the tea room, and the new study built just before Darwin's death is the shop.
Upstairs are exhibits on Darwin's life and work. Some of this is aimed at children and there wasn't much that was new to me. My favourite display was a recreation of the Beagle cabin in which Darwin worked and slept - a facsimile of some of his Beagle notebooks was also intriguing.
What really came across from seeing Down House - reinforcing the biographies I have read - was the sheer domesticity of Darwin's life. His family life seems much more attractive - to me, but I suspect to most modern viewers - than any other Victorian household I know of. Darwin's social status and establishment position played a huge role in helping him spread his ideas - one can only imagine how natural selection would have fared if its leading advocate had been Wallace instead - but Darwin's personal appeal, as a loving father and husband, may also have been important. (It's notable that some Christians have tried to reclaim Darwin, for example with the invention of a deathbed conversion.)
Recommended reading (links are to my reviews):
On the way home we stopped for tea and cakes in
Westerham
. There we found a nice little secondhand bookshop Barely Read that was having a closing down sale - going Internet-only, like so many other bookshops - and I bought
The Proper Study of Mankind
(a collection of Isaiah Berlin's essays) and William Dalrymple's
White Mughals
. I also had a quick look at the church, which is by far the widest church I've seen - it's so wide it's almost square!
6 Comments »
My extent of knowledge in regard to Chares Darwin is lmited largely to what I read, heard, or saw on TV on the sesquicentennial of his monumental work in 2009. For example, I learnt from a doco-drama Darwin also spent much time learning about earthworms ( I think) at this very same house Down House that you visited.

It would be nice to be able to see Down House in person one day. How is the fundraising going?

Darwin did almost all his experiments here, as he never travelled much after the Beagle trip - the occasional trip to London or Cambridge or the Isle of Wight was all he could manage.

But he had a huge network of correspondents, who carried out all kinds of investigations and collection for him.

Now that you have visited Darwin's residence, what about his final place of rest ? I believe he was accord the rare honour of interment in Westminster Abbey, alongside the great man of science Issac Newton. Is the cemetery open for general visitation? It must be awe-inspiring just to tread the same ground that so many great names which defined Gt. Britain's ascendancy are laid to rest.

Yes, Westminster Abbey is open to the public, though it costs an extortionate sum - £16 - to get in. Darwin and Newton must be the most famous of the scientists buried there, but there are lots of politicians, poets, etc. as well.

Danny, The Darwin family residence sounds delightful. Remind us to visit there when next we're in the UK.
Vera

At 16 quid a pop, is that for a comprehensive guided tour of the whole precinct, cemetery included ? It would certainly stop the hordes of local tourists, but not those from overseas.

Let me do my sums...hmmmm, £16 would probably get me 2 X fish and chips lunch at Oxford. Decision, decision.
Leave a comment