Like most urban primary schools, Larkrise has a reasonably small catchment area (and out-of-catchment children are selected largely based on distance), so walking or cycling to school, accompanied or independently for the older children, should be an option for almost all children. But there are some serious failings with the transport infrastructure around the school, and a little investment here could make active travel to it significantly more attractive.
This is a work in progress, and any feedback would be most useful, especially from people approaching the school from the other sides to me.
A recent school email (to all parents, so I have no compunction about sharing it here) said:
Can parents and carers please give some extra thought to how you are getting to school. We've noticed that the traffic situation at the front of the school is getting busier and more congested. None of us want to see a serious accident or a child being injured. If it is at all possible to walk or cycle to school please do so. If you could park on Campbell Road and walk down the cycle path that would help. Please do not park across peoples drives or block access to garages. Please do not block access to the school gates. A big thank you to all the families who are already coming on foot, by bike or by scooter - you are making the school a safer place for all of us and we appreciate it.
And the day after, George Monbiot published a piece "Driven Mad" about this exact problem. He makes an argument for regulation - most obviously through some kind of parking ban at school start and finish times - and that's certainly an option, but "regulation" through road engineering may be less stressful. Also, I'm concerned about access/safety issues in the broader area, not just outside the school gates.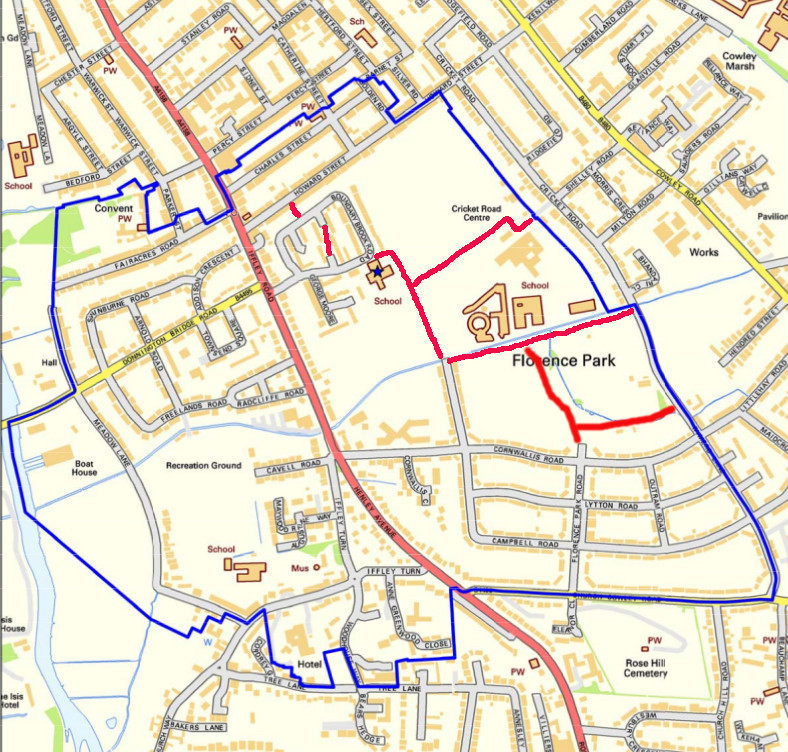 Outside the School
This is the area highlighted in the school email. People park all over the place, making it difficult and less safe for people to access the school on foot or bicycle (including people who have driven but parked a little farther away). Banning parking here - adding double red lines or a time based ban - still leaves the problem of enforcement. A better solution would, I think, to engineer the road to make a safe crossing area.
There's some complication due to driveway accesses, but the road directly outside the school should be narrowed to a single vehicle width, with the pavements built out and protected with bollards, so as to provide a crossing point with clear visibility and lines of view. This could be combined with making the Boundary Brook Rd loop one-way clockwise. (The school transport policy refers to an "informal one-way system", but that seems to be pretty much non-existent, not just informal.)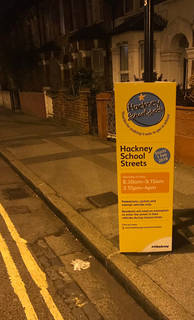 An alternative would be a ban on driving into Boundary Brook Rd at all during school drop-off and pick-up times, with exemptions for residents, deliveries, students and staff with special needs, along the lines of the Hackney School Streets program.
Howard St area
Coming from Howard St or further north, or from Fairacres Rd, crossing Iffley Rd and then walking along Howard St.
The path connecting Boundary Brook Rd with Howard St was clearly blocked to motor traffic "on the cheap", with a couple of bollards and a fence stopping bicycles entering at speed onto Howard St. But there are no dropped curbs onto Howard St, or indeed any clear route at all, leading to people cycling on the pavements to get clear of the parked cars. It can be negotiated with a box bike, but with our tandem this is so painful we prefer to go the long way around via Iffley Rd. Crossing Howard St is not too terrible because it is one-way, but the presence of parking and poor sight lines leave this an unnecessarily risky for (say) unaccompanied 7 or 8 year olds.
My suggestion is that the pavement immediately next to the lane should be built out, matching the build-out holding the tree. There should be a level pedestrian route across the carriageway (thus a slight hump for traffic) to allow easy stroller, wheelchair, etc. crossing, but with barriers to discourage cycling at right angles off or onto the road. People cycling should be provided with proper marked entry and exit routes, with dropped kerbs, to both the east and west. Because Howard St is one-way, this can be done simply by protecting areas from parking. (If contra-flow cycling is given legal standing on Howard St, this could be done as part of the works associated with that.)
It is less important, but there should be a similarly marked crossing of Boundary Brook Rd at the other end of that lane - level to allow easy stroller or buggy use, and coloured differently to alert drivers.
Florence Park area
There is a walking/cycling track running south from the school to Campbell Rd which should make walking or cycling from the Florence Park area an easy option. The major problem here is Cornwallis Rd, which, despite being laid out like a residential access road, is used as a through route by considerable volumes of traffic, especially in peak hour. It is wide, so traffic moves fast and crossing takes some time. (Even as an adult I find the crossing of Cornwallis St near the junction with Cricket Rd highly unpleasant.)
This should either be stopped as a rat-run, through introduction of a one-way system (or conceivably bollards blocking all movement through the Cornwallis-Cricket-Littlehay junction) or, if it is accepted as a major through route, it needs to be provided with pedestrian crossings and traffic calming measures.
Donnington Bridge Rd area
The tiimings on the Iffley-Donnington Bridge junction are optimised for motor traffic at the expense of pedestrians, with staged crossings involving "cages", and crossings only on two arms of the T-junction. The worst case, getting from the northern side of Donnington Bridge Rd to the eastern side of Iffley Rd, will require four crossings!
Iffley area
There is a traffic-light crossing of Iffley Rd, but it brings people out on the wrong side of Cornwallis Rd (see above).
There is no protected right-hand turn from Iffley Rd into Boundary Brook Rd.
Is the very wide (supporting fast traffic) roundabout where Iffley Turn meets Church Way a problem for pedestrians?
Funding all of this
If funding were obtained from some kind of active travel source, then it might be possible to implement a bunch of these changes in one go. Otherwise, a commitment from the council that when and as street refurbishments are done, changes along these lines will be made.
0 Comments »
No comments yet.
Leave a comment