I got a new kindle for my birthday, so I deleted everything off the old one except the children's books, renamed it, and voila! Helen now has a kindle. And she read her first book on it - Roald Dahl's The Twits - pretty much in one sitting.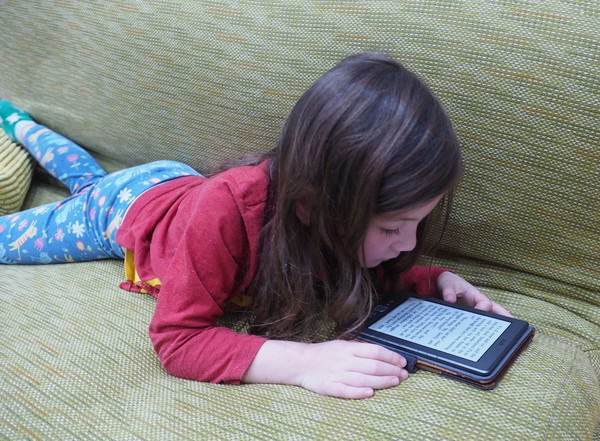 It's hard to believe that this time last year she had just started learning to read. She was working through the twenty little paper booklets her Reception class used, starting with "I see a cat", and was pleased every time she moved on to "a higher number". Now, each time I think things might stabilise, she seems to make another big jump. She's at that stage, which I can vaguely remember from my own childhood, where reading is almost compulsive. I had to hold her up so she could see it properly, but she happily started on the "Unhealthy Times of Kings and Queens" display at the Weston Library, though she came up short at words like "unconscionable". Twice she has spontaneously taken over while I was reading Barry Powell's translation of the Iliad to her, each time reading a paragraph quite freely. And even the nutrition information on cereal packets is fair game!
Three months ago I was looking at graded readers, to try and understand how the Oxford Reading Tree and similar systems worked, but that's already largely irrelevant. The last book her teacher gave her was Teresa Heapy's Dancing Feet (an ORT chapter-book) and she read that the evening she got it; then at the weekly "book swap" Helen and I found a copy of Jacqueline Wilson's The Cat Mummy and she really enjoyed that. Between that and Roald Dahl we're definitely into short book territory now, and I think we can pretty much skip the entire graded reader system.
There are a number of birthday books we never got around to reading (partly because I had this scenario in mind), but which are now about right for Helen to read herself: the Princess Mirror-Belle and Ottoline books, most obviously. Perhaps a little harder than those are The Worst Witch (another birthday present) and books I was reading to her five months ago such as Matilda and Odd and the Frost Giants. Helen is still reading easier books as well. She has half a dozen of the lovely thirty book Walker Stories set left to read. She is also going back through all her picturebooks and reading those herself: Mabel's Story, Julia Donaldson's stories, Old Bear's Bedtime Stories, Madeline, Paddington and so forth. It's fun revisiting some of our old favourites here (though some of them Helen doesn't remember) and enjoying the illustrations — and some of these, because they aimed at adult readers, have interesting vocabulary as well. She's even reading some of her old board books, and the few early readers we have.
Somewhat sadly, she's so excited by reading herself now that she doesn't want me to read to her. I'm trying to keep that up, though, partly because I enjoy it but also because there are aspects of prosody and syntax that are best learned by listening (audio books are also good here).
There are concerns other than complexity, obviously. The content is not a major problem yet, since most books suitable for ten year olds are fine for five year olds — there's a bigger gap, I think, from ten to fifteen — but motivation is critical.
0 Comments »
No comments yet.
Leave a comment