Yesterday Helen and I did a lovely walk in the Chilterns with our friend Jude, a 9km loop starting in Pishill and having lunch at the Five Horseshoes in Upper Maidensgrove. (Where we met up with friends who had got in touch just too late to make the start of the walk.)
Around half the walk is in wooded areas, with a long stretch through College Wood; there are also lovely long open stretches on Russell's Water Common. And there are some nice hills, with about 200 metres of climbing and the same obviously descending. We had a great day for walking — about 17 degrees and cloudy with some sun.
Pretty much the entire trip is off-road. At Pishill Bottom there are about 200 metres on a stretch of the B480 with no real verges. Otherwise there's a crossing of the B480 at Pishill and some tiny bits of back-roads at Upper Maidensgrove and Maidensgrove (there a track alongside the road along the southern edge of the Common). Much of the route follows the Oxfordshire and Chiltern Ways. It is well signposted but an Ordnance Survey map is recommended.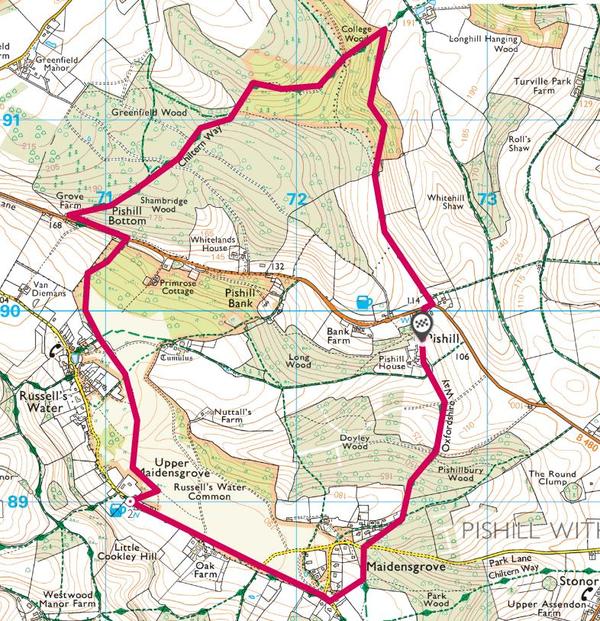 We did the walk anti-clockwise, which meant 6km before lunch and 3km after, and that worked nicely. It took us about five hours, including a long lunch stop, agreeing with the 2.5km/hr I usually assume for walks with a six year old (including short breaks and assuming a comfortable track, clement weather, and no big climbs).
1 Comment »
I went along on this walk. It was a lovely day in picture-perfect Spring-enhanced countryside. I bet it's fab in bluebell time.
And plenty to collect and discuss and look at along the way with a young child.
Thanks for the organising, Danny!

Jude
Leave a comment