Walking around Oxford's city centre can be pretty unpleasant, as I've written about before. But that pales in comparison with how awful it is for cycling. Yes, there are lots of people doing that, but there are even more people who simply will not cycle in central Oxford because it is too hostile and unpleasant.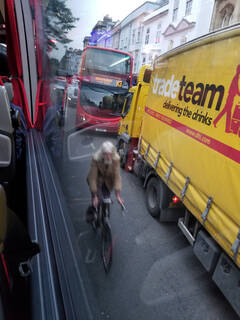 There are no safe routes through the city centre, whether it be EW or NS or WN or any such. The restrictions on Queen St and Cornmarket are only part of the problem. Streets that are simply not safe for a 12yo — let alone an 8yo or an accompanied 6yo — to cycle include High St, St Aldates, Longwall St, Broad St, St Giles, George St, Worcester St, Beaumont St, Gloucester St, Hythe Bridge St, and Park End St. As evidence for that, how many children do we see cycling around central Oxford (and not on seats or trailers or tandems)? None is a pretty good approximation. It's actually easier to enumerate the places it is reasonably safe for children to cycle: Brasenose Lane, Ship St, most of Queen's/New College Lane, the eastern half of Holywell St, Pembroke St and Blue Boar St.
And these streets are, similarly, too hostile for most adults. I had two colleagues who knew how to cycle but found cycling in town so unpleasant that they chose to walk two or three miles to work instead. I've met a remarkable number of university students who will not cycle because the environment is too hostile. And these are people younger and fitter than I am! It's significantly worse for anyone unable to cycle fast, or to reliably make reflex decisions.
There are some routes on the periphery which allow bypassing the city centre: the river towpath, Roger Dudman Way, and so forth. But these only cover some trips, are awkward and indirect for many trips, and don't solve the problem that people need to get to destinations inside the city centre as well as getting through it. There are also residents within the centre — the large college undergraduate population — who need to be able to cycle out of the city centre. It needs to be safe to cycle on pretty much every street in the city centre.
Yes, there are people cycling around central Oxford nevertheless, myself included. We are the brave, the confident, and the assertive. We'll even tell you it's not too bad — we've worked out which bits of it we can negotiate, and how to make it tolerable. (In some cases people cycling have quite serious Stockholm syndrome: I've had people tell me they like sprinting to keep up with the buses.)
"Cycling" includes faster mobility devices, e-bikes, electric scooters, tricycles, as well as the full gamut of traditional bicycles. High St may be best handled by sprinting at 20mph, but try that on a slow tricycle! Or, easier, try hiring a Mobike, which with small wheels and low gearing gives a feel for what it's like not being able to go so fast.
We also need to consider people whose gender, ethnic background or social status may make it harder for them to enter into conflict, actual or implied, with people driving motor vehicles.
And yes, there more people cycling in Oxford than in most UK cities. That can largely be attributed to demographics: the presence of a huge student population. Even with that, Oxford has maybe a third the cycling rate of similar Dutch cities, where provision of adequate infrastructure enables children and the elderly to cycle, as well as less able and confident adults. If properly enabled, cycling would be the majority choice for trips under three miles. Fixing the city centre is necessary to make this possible.
Solutions
[Added following Dan's comment below.]
Streets with lower motor traffic volumes — say Turl St or New Inn Hall St — need:
motor traffic volumes further lowered - there should be no access for general traffic and tighter restrictions on loading/local access
more space, to reduce conflicts with pedestrians and improve visibility - so removal of all general parking and enforcement of loading/waiting restrictions
redesign to make "people have priority; motor vehicles are guests" status clear - the streets should look like pedestrian-cycle spaces, not like roads. 15mph speed limits could be imposed, if they ever become possible.
Other streets could be made into low traffic streets and treated as above — Broad St, perhaps most obviously, and potentially (looking at the Connecting Oxford proposals) Beaumont St (or George St) and Hythe Bridge St.
Roads where larger volumes of traffic are unavoidable — High St, St Aldates, the radial routes into/out of the city centre — need physically separated cycle tracks. This may involve reworking the bus system, perhaps with a one-way circulation system, perhaps by route consolidation and shifting of some services to Donnington Bridge.
If through routes for motor traffic are reserved for buses, as planned, that will allow redesign of key junctions - the Longwall-High junction, the George-Hythe Bridge Street junction, the Woodstock-Banbury junction, and so forth.
Analogies
For those who don't cycle, the following analogies attempt to convey what cycling around central Oxford is currently like, using walking and catching a bus as analogies.
Imagine Oxford's centre with half the pavements removed completely and the other half shrunk to half their current width. With all the pedestrian islands and crossings removed and the light timings changed so you had to sprint to get across before the green man turned red. Imagine every corner has someone standing on it waving a sword around — only rarely do they actually attack anyone, but they often don't move to make room for passers-by, so walking around corners regularly involves having a metre-long sword waved around in front of your face.
But you can pick your own set of changes and obstacles. The net effect has to be that pretty much no children at all ever walk around the city centre, even accompanied by their parents. And more than half of all adults won't walk anywhere in central Oxford because it's too hostile.
Or imagine central Oxford if all the bus stops were removed and the buses stopped in the middle of the road instead of next to the pavements, so passengers had to cross a lane of motor traffic to board. Imagine if there was an 80cm step-up to board a bus — or a two metre ladder climb to get onto a double-decker. Imagine if every bus had a random selection of rusting metal spikes in it, so it was impossible to fully relax while travelling in one. The effect is that no one allows their children to catch buses into Oxford, and that most adults don't feel safe using them.
2 Comments »
Everything you say is true. On the other hand, Oxford is much better than most other UK towns and cities. And there are kids riding bikes where traffic is properly calmed or forbidden. So how can we build on the good bits of Oxford cycling infrastructure and extend them to the very centre of the City, where as you rightly point out, the facilities are poor.

Excellent article and I fully agree. I would restore the old 1930s cycleway on Marston Road and enhance this to add grade segregated prioritised crossings of the side roads. I would link this up with the excellent Marston Ferry cycleway. I would also extend the cycleway along Marsh Lane. I would ban ICE buses from High Street but maybe allow half-length electric buses that you can see in Biarritz. I would also have a direct high quality Greenway from the city centre to Oxford Parkway.
Leave a comment