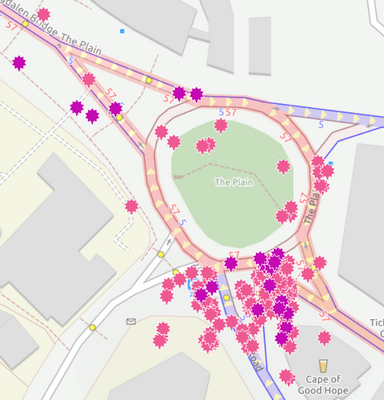 Two terrible deaths within a month have brought cycling safety to the fore, but the problems are not new and the Plain in particular has been a worry for a long time. Safety was the rationale behind the rebuild of the Plain in 2016 (which made things slightly worse), I used it as an example of junction design that failed to address walking and cycling safety and accessibility, and I tweeted about it just two weeks before the fatality.
Unfortunately there are no easy solutions, at the Plain or elsewhere in Oxford. Indeed I would argue that there are no significant improvements that aren't either very expensive or a long way from being Pareto (making no one worse off): witness the unhappiness about the parking removal in the Quickways and the modal filtering in the low traffic neighbourhoods. (I've seen a range of suggestions on social media for making the Plain safer, involving traffic lights, speed humps, and so forth as well as the usual "just get everyone to drive and cycle better" wishful thinking. People really want magic bullets that don't cost too much and won't inconvenience anyone; there really aren't any.)
The reason the Plain is important is because so many people cycle through it — Magdalen Bridge is most likely the second busiest cycle route in the UK. If we scale the collision numbers by the amount of cycle traffic then other Oxford locations are actually worse on a per-trip risk. And the inner kilometre of Cowley Rd as a whole — to take one example — generates many more cycling injuries than the Plain. So we really need to improve cycling safety all over Oxford.
And while the fatalities are the worst, they are just the tip of a much larger mountain of harms. For every fatality there are scores of serious injuries and hundreds of slight injuries. There will be thousands of "incidents" which involve collisions but are not reported and don't appear in the STATS19 database. And there will be even more near misses, which don't involve a collision but may still leave people shaken and deter them from cycling. There is also the invisible harm done to the people who don't cycle because they are too scared to. (This is a particular concern at the Plain, because it sits astride the only practical route to central Oxford from much of East Oxford and Headington.)
There are also too few fatalities to reveal where the most dangerous locations are: perhaps we can generalise from the data that collisions involving large vehicles at junctions are most likely to kill people, but just because a location hasn't generated a fatality yet doesn't mean it is not high risk. So even if we just want to eliminate fatalities we need to target concentrations of serious and slight injuries.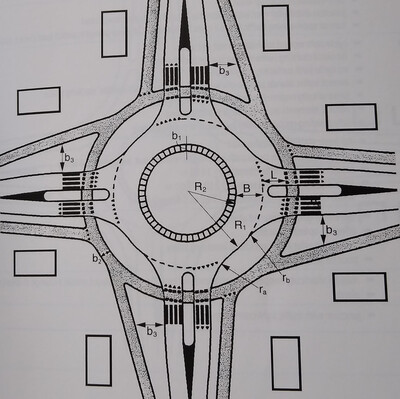 Returning to the Plain. Rebuilding it with a Dutch-style peripheral cycle track might be possible, but that would be a long-term project. Space would be an issue, but if we're thinking long-term then reducing the size of the central island is feasible and it might be possible to take some space from the eastern corner of Magdalen College School. One problem would be the number of buses, and the need for setbacks that can cope with those. A reduction in overall traffic volumes would also be necessary, but that will come with the bus gates on St Cross and St Clements that are in the current circulation plan. It would be good to see draft plans for a Dutch-style roundabout here, preferably by someone with experience. (Alternative configurations with traffic lights and separate cycle phasing might be possible, but would have problems coping with peak traffic volumes and would definitely need the bus gates in first.)
Something like London's Safer Lorry Scheme could be implemented, but that would need enforcement by Thames Valley Police. This could be piggybacked on the ZEZ, possibly with HGVs entering that required to meet Direct Vision standards. (This wouldn't directly affect the Plain, but would constrain HGVs currently transiting the Plain which are going to or coming from Magdalen Bridge.) Another option would be to bring in the circulation plan bus gates early, but in the first instance only restrict HGVs. (Those would still be able to access all sites, but wouldn't be able to transit through the city centre.)
There are some minor schemes that could be implemented much faster. Some of the entries and exits could be tightened, to force traffic to slow more on entry. The two remnant parking bays on the eastern edge of the Plain could be removed and parking on the island on the Magdalen Bridge approach blocked with bollards. And once the county gets Part 6 Moving Traffic powers, ANPR cameras could be used to implement a School Streets scheme on Cowley Place, and to enforce the ban on direct turns from Cowley Rd to Iffley Rd.
There is a twitter thread covering similar material to this post.
2 Comments »
That is assuming the proposed bus gates on St Clements and St Cross Rd don't go in. If they do, and the East Oxford LTNs become permanent, nearly all powered traffic other than buses and taxis will disappear. Buses will only be going from Iffley/Cowley Rd or St Clements to the city centre, or vice versa. There will probably be no need for a roundabout at all.

Safety will still be a concern with reduced traffic. There are still going to be a lot of buses, and between those, the taxis, access traffic to Merton St and Magdalen College, and Cowley<->Iffley turning traffic, enough motor traffic that we can't just mix cycles in with it.

A roundabout may still be the right solution - and lower traffic volumes would make a Dutch-style roundabout more straightforward - but non-roundabout options will also become more feasible with lower traffic volumes.
Leave a comment