Contra-flow cycling should be allowed on all the one-way streets in Oxford. From LTN 1/20: "There should be a general presumption in favour of cycling in both directions in one way streets, unless there are safety, operational or cost reasons why it is not feasible."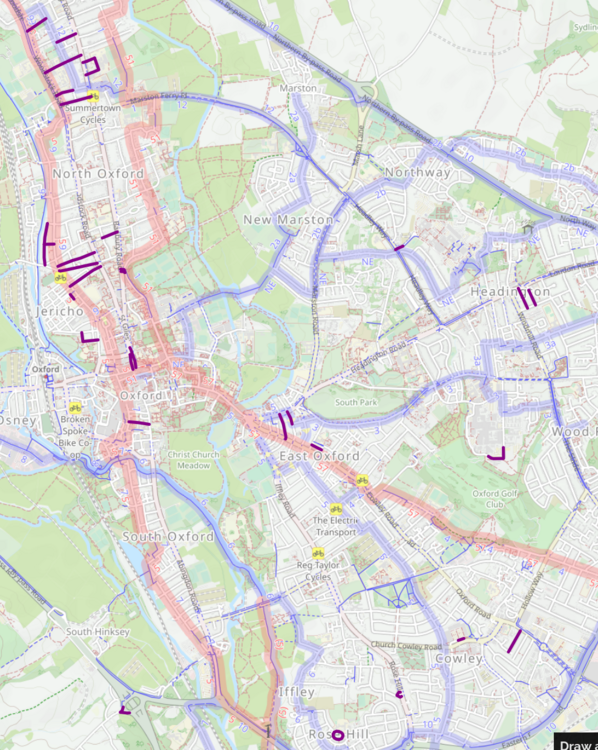 The Ranty Highwayman has put together a useful overview of UK advice on contraflow cycling on one-way streets. One key takeaway from that is that no infrastructure (as in a marked contraflow cycle lane) is needed if 85th percentile speeds are less than 25mph and vehicle flows are less than 1000 vehicles per day.
I have tried to prioritise possible schemes, with the more useful ones marked with a !. But I think there's a good case for enabling contraflow cycling on all the one-way streets in Oxford (and potentially across the county). Universal provision is much simpler both to understand and to communicate.
In many cases one has to think the restrictions are being ignored already, since residents are unlikely to cycle hundreds of metres further just to start their trips, and it would seem safer to legalise this.
The major safety concern will be with contra-flow cycle traffic turning onto or off main roads.
City Centre
Brewer Street

This is very low traffic, and very narrow. Contraflow cycling is probably ok, perhaps with problems for e.g. tricycles unable to mount the kerb. (Ideally this would be a "single surface" like Pembroke St; pedestrians ignore the kerbs and vestigial "footways" here anyway.) But there will be very low demand for eastwards cycling here, with Pembroke St an easy alternative.

! Butterwyke Place

This is wide enough (5.2m) to allow a contraflow cycle lane to be marked. It could be a really useful route if the signal crossing of the A420 were upgraded to a toucan, connecting to Friars Wharf and Grandpont Bridge.
East Oxford / OX4
! Jeune Street

If the East Oxford LTNs are made permanent, the plan is to put a modal filter at the St Clements end and make this two-way for all vehicles.

Rose Hill service road (Ashhurst Way)

This is narrow (4.7m) and has parking, but has low volumes and low speeds. Contraflow cycling would improve access to the shops from both Rose Hill and Iffley.
Headington
! Holyoake and Stile Roads

These are 5.5-6 metres across and roads narrower than that elsewhere support contraflow cycling or even two-way motor traffic. But traffic volumes and straight runs with no traffic calming may be a problem.

"It would make my life much easier if they both had cycle counterflow lanes."
Jericho
King Street

This is not terribly useful and the cycling restriction is almost certainly ignored by the tiny number of people who might want to cycle.

! Worcester Place

This would be a fairly big gain for residents on the street wanting to head into the city (who almost certainly ignore the one-way restriction) and it's hard to see any problem given how low the traffic volumes must be.
Walton Manor
! Observatory Street

Contraflow cycling would be really useful for residents of Adelaide and Observatory wanting to get to Woodstock Rd. Traffic flows are surely lower here than on St Bernard's Rd (see below).

! Plantation Road

This is so narrow in its eastern end that it is shared space (big woonerf feel) so contraflow cycling should work fine.

! St Bernard's Road

This carries ~800 motor vehicles/day (Telraam data) which should be ok with contraflow cycling without a marked lane.

Southmoor Place and Southmoor Road

The one-way system creates an LTN, and I can't see any problem with contra-flow cycling.
Summertown
North Parade

(when open to traffic, early mornings and evenings)

Summerfield + Mayfield Rds

I can't see much demand for this, but I can't see any real problems either.

Oakthorpe Road (west of Oakthorpe Place)

This would be a significant gain for residents and shorten some routes to Elizabeth Jennings Way. The eastern half has a marked contraflow cycle lane. But what are the traffic volumes here?

Thorncliffe Road

This would shorten many trips for residents. Again, do we have data on traffic volumes?

! South Parade

Getting from Middle Way to Stratfield Rd important (central back-street route) and eastbound cycling would simplify access to Summertown from Woodstock Rd north. The road width is ample, but can't mark a cycle lane (alternating parking). What are the traffic volumes.

note

Contraflow cycling on these last three streets was incorporated into the South Summertown Terraces LTN/STN proposals
0 Comments »
No comments yet.
Leave a comment