It's great to see Oxford's first cycle hangars appearing in Jericho.

There have been a few complaints that the hangars don't fit in with the streetscape or are inconsistent with heritage values. Unless one is completely blind to cars this seems pretty hard to sustain. The two photos above (taken on my first visit) show one hangar alongside a small car with a much more incongruous colour and the other next to an SUV that is much larger and more intrusive.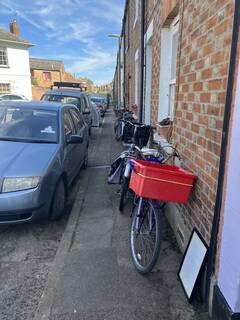 There were suggestions that there's no demand for these, but the two in Jericho were fully subscribed within two days and there's a waiting list for them. Waltham Forest has 500+ hangars, Lambeth 400+, Hackney 600+, and so forth, and they still have waiting lists. Looking at housing composition and population, it seems likely that there will be demand for hundreds of these in Oxford. Heck, this photo - showing cycles on the pavement, attached to the front of terrace homes, suggests there's probably demand for a second hangar alongside the one in Nelson St.
The hangars were initially installed partially on the footway, which was clearly a mistake and has been fixed. But they still open onto the footway and I think they should open onto the carriageway instead. Firstly, the transport hierarchy suggests inconveniencing drivers (with access potentially blocking the carriageway) is better than inconveniencing pedestrians (with access blocking the footway). And, secondly, accessibility for hangar users is better from the carriageway, since it avoids having to lift cycles - potentially heavy e-bikes being used by people who aren't that strong - up a kerb and the awkward manoeuvring of them on sometimes narrow footways. These hangars are inside the west Jericho Low Traffic Neighbourhood, with very low levels of motor traffic; it's hard to believe having hangars opening onto the carriageway is dangerous, and if it is then traffic calming needs to be introduced.
A row of Sheffield stands (perhaps three for each) should go in alongside every bike hangar, with sufficient clearance for cargo cycles to use the end stands. That would provide parking for visitors, cycles that won't fit into a hangar, residents unable to afford hangar parking, and so forth. And cycle parking should be part of a broader "kerbside strategy", also providing car club spaces, parklets, seating, greenery and sustainable drainage, and so forth.
0 Comments »
No comments yet.
Leave a comment