We ended up going to two Olympic events, the archery and the table-tennis.
Camilla applied for half a dozen different events, but ended up with tickets to early elimination rounds of the archery, in Lords, and the quarter-finals of the mens team table-tennis, in ExCel.
The archery was on a Tuesday, and we got the first cheap train into London, and had to stand the whole way. Then we walked to Baker St, stopping for coffee in Markus Cofee, and had a good yum cha (which they call "dim sum" here in the UK) lunch in Royal China Club. A bus got us to Lords with plenty of time to spare, so we walked along Regent's Canal for a bit, watching a coot making a nest and a heron waiting for fish.
We survived the 400 metre queueing and the security check, then we were into Lords, where we had occasional drizzle, but hardly any wind. The most dramatic match saw a 63 (out of 64) ranked Fijian come back from almost down to get within one shot of beating the 2nd ranked Korean. Another notable feat was a French archer (the only one wearing glasses) shooting three straight tens to win her match. And we got to see the only Mongolian archer knocked out.
When it came to the table-tennis on the Sunday, we started off cycling to the station in a downpour and got so soaked that we turned around at Magdalen Bridge and came back home, changed into dry clothing, and got a taxi instead. Once we'd managed to get to London we negotiated the Circle line to Tower Hill, walked to Tower Gateway (queueing for ages in a Starbucks just to use their toilet), and got the Docklands Light Rail to ExCel. A bit tedious, but there were no hiccups.
We watched two matches in the mens teams. The Germans polished off the Austrians in three sets, but the Koreans took five sets - and four games in the last - to best the Portuguese. This built to quite some tension, and the crowd was much more boisterous - and partisan - than the archery crowd had been, yelling out the names of players, chanting e.g. Por-tu-gal slowly, and even attempting a Mexican wave.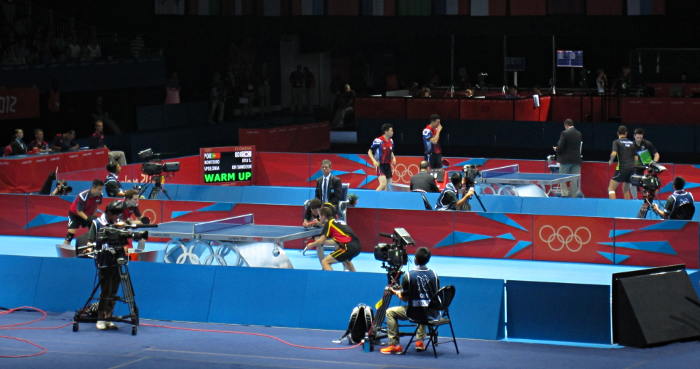 One annoying part of both events was the gratuitous sensory torture inflicted on the audience. At the archery, painfully loud music was played in between each contestant shooting - which, the way archery works, meant most of the time. By half way through the session I was having to hold my hands over my ears. Worryingly, I could see a young girl, maybe six, standing on the fence below us, right in front of the loudspeaker - maybe 5 metres away from it where we were 25, so she was copping nearly 10 dB more than we were. And at the table-tennis, most of the massive array of roof lights were aimed at the tables and their surrounds, but four of them were facing straight at us. I'm not sure if the entire audience had that problem, but I wore my hat through the entire event and Camilla had to hold a pamphlet up to shade her eyes.
That aside, it was a good experience, with no major hiccups and everyone we encountered seeming happy. I also thought the opening ceremony was rather well done - much better than other Olympic opening ceremonies, with the British talent for self-deprecation and humour balancing the excesses of patriotic nationalism this kind of event lends itself to.
2 Comments »
So you and Camilla did get sweep up by the occasion. I would have loved to be in London for the duration of the Games.

I did hear the loud music of the Queen, or the Beatles played in some indoor events including swimming. I think it's alright for basketball or volleyball. Archery, and shooting events? I don't think so. The archers, and shooters don't need loud music to psyche them up. The don't want distraction from their deep concentration, and focus.

I've never been to an archery contest. But I tried archery a couple of times when I was in senior high school. As seniors we were allowed a choice of different sports at the Narrabeen Fitness Centre. Those familiar with Sydney would know the place I am talking about. Firing an arrow is not as easy as it looks, steady hand coordination would come only with plenty of practice. There were other activities including swimming in the lagoon. The water was cold.

I had only been to one table tennis event. It was during the heady days of ping pong diplomacy of the early 1970s. The year might have been 1972, I can't remember if it was before Gough Whitlam's visit to the then Peking. Anyway, there was a great deal of anticipation of the exhibition matches put on for the visiting Chinese players. The venue was the Hordern Pavillion, I think it was a packed house. The small local Chinese population looked forward to this event. I dutifully turned up for this landmark occasion.

It was mostly an exhibition display for there were few local talents who could match the Chinese in skill level. The men's double matches were most entertaining and had everyone screaming in delight. The shots seemed impossible to execute or return.

The ranking Australian players at the time were Paul Pinkevitch, and Anne MacMahon. I think China thought highly of them because Anne MacMahon went on to become a successful businesswoman taking advantage of her table tennis credentials and connections. It has a fairytale ending.

You want to add Paralympic to your Olympic experience as well.
Leave a comment