Oxfordshire is introducing 20mph on many main roads, on rural roads where they pass through villages and on larger sections of Oxford's main roads. Here I look at what is happening - and should be happening - in Oxford.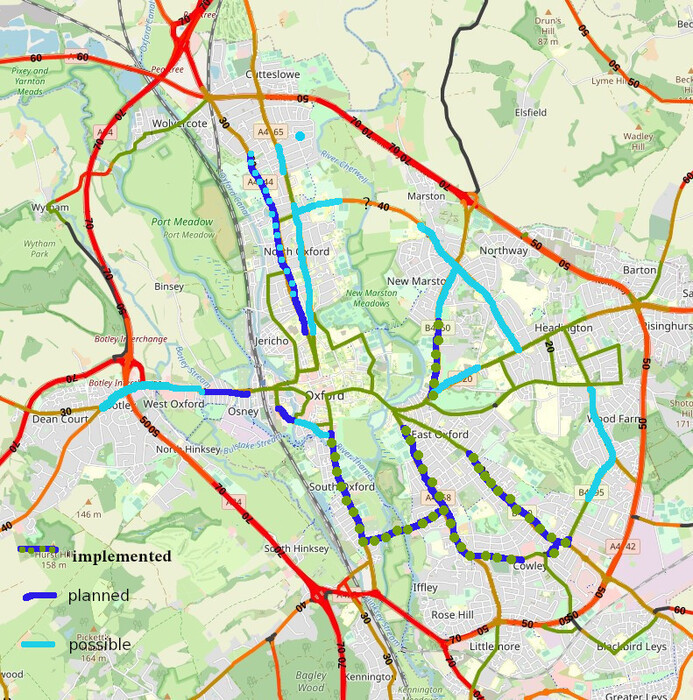 This seems rather ad hoc. I believe we need a coherent 20mph scheme across Oxford, which looks not just at local concerns but at the broader geography, creating a simple structure that avoids multiple speed limit changes, since those confuse people and reduce compliance. My suggestions as to how to fill out a coherent scheme are in light blue:
Thame St - junctions and crossings with high levels of foot-cycle use; should be changed along with Oxpens
Botley Rd to the Eynsham Rd junction - some residential side-streets, the junctions with the retail park and the park&ride, a primary school, etc.
Banbury Rd - many schools, high levels of foot and cycle use, with many minor road junctions and the major junction with the B4495; should match Woodstock Rd at the northern end
Marston Ferry Rd - to cover the entries to Ferry Pool Rd, Cherwell north and south, and the nursery
Marston junction and Headley Way - the junctions with Marsh Lane, Marston Rd, and the JR entry would all be safer and easier to negotiate; there are also many minor road junctions
Headington Hill - there are no frontages here, but there is a junction with Cheney Lane; even if 20mph signage didn't reduce speeds, it might reduce aggression against people cycling in primary; it would also avoid having a single short 30mph enclave
The Slade and the rest of Hollow Way - the cycle tracks on the Slade are sub-standard width (and lack the 0.5m buffer LTN 1/20 recommends with 30mph motor traffic); the roundabout would be safer at 20mph; there are many minor road junctions
This would create a conceptually and practically simple scheme, with most people driving into Oxford encountering just two speed limit changes, from the ring-road 50mph down to 30mph, then from 30mph to 20mph.
A possible exception is the current 40mph stretch of Marston Ferry Rd. This doesn't have entries or crossings except for an informal crossing just east of the Cherwell, which will see increased use with the housing developments on Mill Lane. So I would suggest Marston Ferry Rd be dropped to 30mph, if not 20mph, so a zebra crossing can be put in place there.
Notes
Much of Binsey Lane is, bizarrely, National Speed Limit or 60mph. This should also be dropped to 20mph.
Lower speeds are clearly safer, especially for people walking and cycling. Both zebra crossings, "dropped kerbs with islands", and informal crossings are easier to use with slower traffic. Main road junctions will also be safer and more accessible with slower moving motor traffic. And slower traffic reduces the levels of cycling infrastructure required (at 30mph, for example, LTN1/20 wants a 0.5 metre buffer between cycle tracks and motor traffic).

Obviously dropping speed limits from 30mph to 20mph with no traffic calming (and probably little enforcement) won't drop speeds by 10mph, but the evidence is that it does have some effect on speeds, and even a 1-2mph reduction reduces the severity of injuries. That may be helped by increasing numbers of cars with Intelligent Speed Assist, and even a little enforcement by police could make a significant difference. One set of average speed cameras on the longest stretch of each radial would have a huge impact.
Oxford is not the only city moving in this direction: Transport for London is continuing to make main roads 20mph and working out how to enforce them.
If the Department for Transport ever approves 15mph speed limits - which the City of London is asking for - then I think those should be used in Oxford, probably on the streets and roads which are currently 20mph (so on side streets and the innermost sections of main/classified roads).
2 Comments »
What if the topic of 20mph were reframed, so instead of us arguing which roads should be lowered to 20mph, we started with a base line of no road is greater than 20mph (anything currently lower remains so) and then have a debate with stakeholders to justify why a road should be higher than 20mph? The discussion would be so much easier, instead of arguing why it is important to keep people safe (which for some reason is sometimes a secondary concern) we can instead start with safety as the baseline and argue where safety would not be compromised to raise the limit?

Yes, we should definitely invert the current logic. Instead of lowering speed limits where residents ask for it, we should just drop the default speed limits to 20mph (build up) and 40mph (rural), and only increase those after a safety audit.
Leave a comment