Oxfordshire County Council has allocated £8 million to its 20mph speed limit programme (to be spent over three years). But none of that money has been spent - or looks like being spent - in Oxford, even though lower speeds there would have the greatest effect on road danger reduction. (The 20mph speed changes on Iffley Rd, Cowley Rd, etc. were not part of this programme, but were part of the Quickways schemes, funded by the central government Active Travel Fund.)
In April 2021, at her last Highways delegated decisions meeting, Yvonne Constance signed off on making Botley Rd 20mph as far as the Bulstake Stream. This has still not happened!
The 20mph schemes in Oxfordshire's villages and market towns are important, but Oxford is where lower speeds would have the most effect. Tens of thousands of people a day walk and cycle along or across Oxford's main roads, and have to negotiate junctions designed to maximise motor traffic flows at the expense of walking accessibility and cycling safety. Reducing speeds here would make a huge contribution towards both Vision Zero and enabling active travel.
The county may be reluctant to upset the bus companies. But if we have to wait first on Network Rail to finish the bridge works and then eighteen months for the traffic filter trial to finish, that means a delay of over three years. Meanwhile, Wales is set to make 20mph the built-up default speed in September, Scotland is committed to doing that by 2025, Transport for London is progressively changing all its roads, and other local authorities in England are moving forwards. This change is going to happen sooner or later, so the bus companies need to accept it.
In London, putting 20mph speed limits on parts of the TfL-controlled main road network reduced collisions involving vulnerable road users by 36%, with the number of collisions resulting in death or serious injury decreasing by 25%. Based on this, STATS19 injury data and other evidence of the effects of 20mph changes on main roads, my conservative estimate is that reducing the speed limit on the current 30mph roads in Oxford would, over three years, avert or reduce the severity of more than ten serious injuries.

20mph limits would also enable walking and cycling for tens of thousands of people currently deterred by motor traffic. Lower speeds make using zebra crossings easier and safer, make informal crossings usable by children and slower adults, and make cycling along and across main roads safer and less stressful. Three years is two whole cohorts of Year 5 and 6 children, many of whom would miss out on being allowed to walk or cycle to school by themselves, and on the gains in independence and well-being which that brings.
As I have previously argued for School Streets schemes, the county should be prioritising 20mph schemes based not just on how easy they are to implement, but on how much of an effect they will have. If you live near, or travel along or across, Botley Rd, Woodstock Rd, Banbury Rd, Marsh Lane, Headley Way, Windmill Rd or the Slade, please write to your councillors telling them you want 20mph speed limits on those roads.
How far should the 20mph limits reach? It would probably be simplest to make Oxford 20mph everywhere within the ring-road. The only plausible exception would be Marston Ferry Rd, but even that has an informal crossing just east of the Cherwell, for the track to the Victoria Arms (which will see much greater use if housing is built at Mill Lane). My original idea was to keep 30mph "step-down" sections between the ring-road and the first junction, but I've been convinced that's not necessary.
How will 20mph limits be enforced? The county wants to deploy average speed cameras, which would greatly improve compliance. But speeds on Iffley Rd are clearly much lower where 20mph limits have been put in, even without enforcement, and I'm told that speed-monitoring there shows almost no vehicles going over 30mph. This is consistent with data from elsewhere showing that 20mph limits reduce the highest speeds most.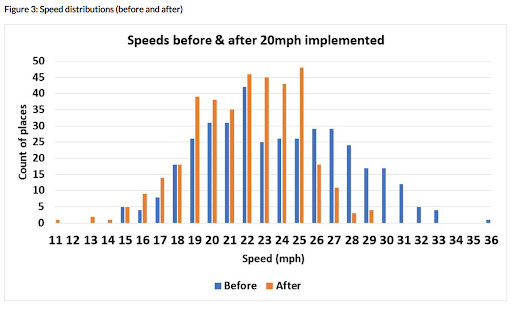 0 Comments »
No comments yet.
Leave a comment