We slept in and had a lazy Sunday morning, but after lunch we drove down to Dorchester, which is just twenty minutes away.
Dorchester Abbey is an attractive, mostly 14th century church, but its highlights are the stone and glass windows in the chancel, a lead font and a sculpture of a knight drawing a sword. Jenkins (England's Thousand Best Churches) describes one of the windows: "a rare Tree of Jesse window, the tree expressed not only in stained glass but in the carving of the mullions. Each one is bent to form the branches of a tree, crowded with sculpture and rising from the body of Jesse carved on the sill beneath."
There's a little Museum just outside the church, in what used to be a schoolhouse. This is several rungs up the ladder from most one-room local museums, with good interpretive displays on the general history of the area as well as archaeological finds. There are also some old school desks which open to reveal small displays on the history of education in the village.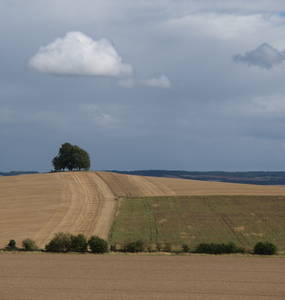 After afternoon tea in a little tea house in the village, which has some attractive houses itself, we drove via Long and Little Wittenham to the Wittenham clumps. These don't look so impressive from Dorchester - little tree-clad pimples on the skyline - but the views from on top are rather good, and give a feel for just how flat this part of the Thames valley is. Highlights include the towers of Didcot power station, the curve of the Thames, Dorchester, and the grid of fields.
Camilla lay on the grass and enjoyed the clouds while I walked down to the Thames, through the Little Wittenham nature reserve, and back up the hill. We got back to the car just as it started raining.
1 Comment »
Pardon me for being cynical. As I looked at the snaps of the brown fields, clear skies with wispy white clouds ,I said to myself: my, my, what wonderful dry, warm weather you're having. Then, the very last sentence confirms my cynicism.
Leave a comment