Oxford already has a lot of low traffic neighbourhoods, without through routes for motor traffic (which is restricted to access). Some of these are "natural", in that they were effectively created by the geography, but new areas of housing are built as low traffic neighbourhoods — no one designs residential streets that will attract through traffic — and others have been retrospectively implemented by modal filters, usually bollards or gates. Here I document some of the latter.
There is also one example of a "way before its time" School Streets scheme in Oxford, with a retractable bollard used to prevent motor vehicle access to St Philip and St James primary in north Oxford, at drop-off and pickup times.
The question for anyone opposing low traffic neighbourhoods is, are you also asking for these existing ones to be turned back into High Traffic Neighbourhoods? And if not, why not - what differences justify massively higher traffic volumes in Bartholemew and Crescent Rds than in Phipps and Farlands Rds?
New build housing
The Waterside and Waterway developments along the North Oxford canal are designed as low traffic neighbourhoods, as are areas all across the city: Reliance Way, Demesne Furze, and many others.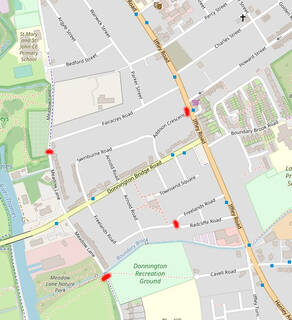 East Oxford
Modal filters on Addison Cresecent and Meadow Lane (north) prevent the use of Iffley Fields as a rat-run to avoid the traffic lights at the Donnington-Iffley intersection. Barriers on Meadow Lane (south) and Freelands Rd provide the same protection to Donnington and Iffley Village.
[Click on the map for a larger version. Modal filters are marked in red.]
Also note that there is no way to drive directly between Iffley Village and Rose Hill.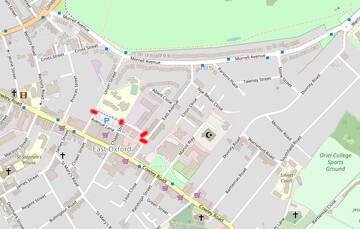 There are no through routes from Morrell Ave to Cowley Rd in between Divinity Rd and Cross St/Princes St. This low traffic area was created in the 1990s1985 using gates and bollards on Union St and East Ave/Collins St.
A gate on Phipps Rd stops cut-throughs from the B480 to Barns Rd and creates a low traffic neighbourhood.
South Oxford
Potential cut-throughs around the junction of Weirs Lane and Abingdon Rd have been stopped by modal filters on Canning Crescent and Fox Crescent. Wytham St is also filtered where it meets Abingdon Rd, though that is presumably to simplify the junction.
North Oxford
This gate on Hayfield Rd (and the one-way routing of Polstead Rd) almost makes the area to the north a low traffic neighbourhood; it also helps keep motor traffic off a key cycling route.
Headington and Marston
Bollards on Bateman St create part of a low traffic neighbourhood.
A filter on Staunton Rd creates an incomplete low traffic neighbourhood. It's still possible to use Woodlands and Sandfield to avoid the Headley Way-London Rd traffic lights.
2 Comments »
This is excellent! I guess we need to rip out all these filters. How are the people in these neighbourhoods coping???

The East Avenue and Union Street filters are from the 1985 3-month experiment -- bit earlier than 1990s.
Leave a comment